This source is a political cartoon about President Roosevelt and the New Deal drawn in 1937.
---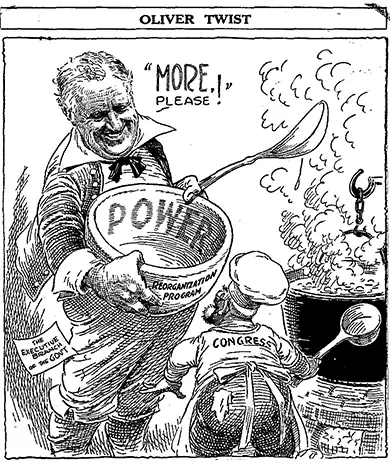 What is President Roosevelt asking for? How does this connect to the New Deal? 

What does the difference in size between President Roosevelt and the "chef" suggest? 

Based on this source, was the New Deal a good deal for the United States? What evidence do you have from this source that supports your answer? 
Oliver Twist: fictional character in a Charles Dickens novel of the same name. OIiver Twist was an orphan living in poverty who was frequently given help by the government, yet was not able to succeed despite this help.
Reorganization program: multiple efforts made by President Roosevelt to reorganize elements of the government that would place those elements under the control of the executive branch
Executive branch of the government: one of three branches of government that includes the President