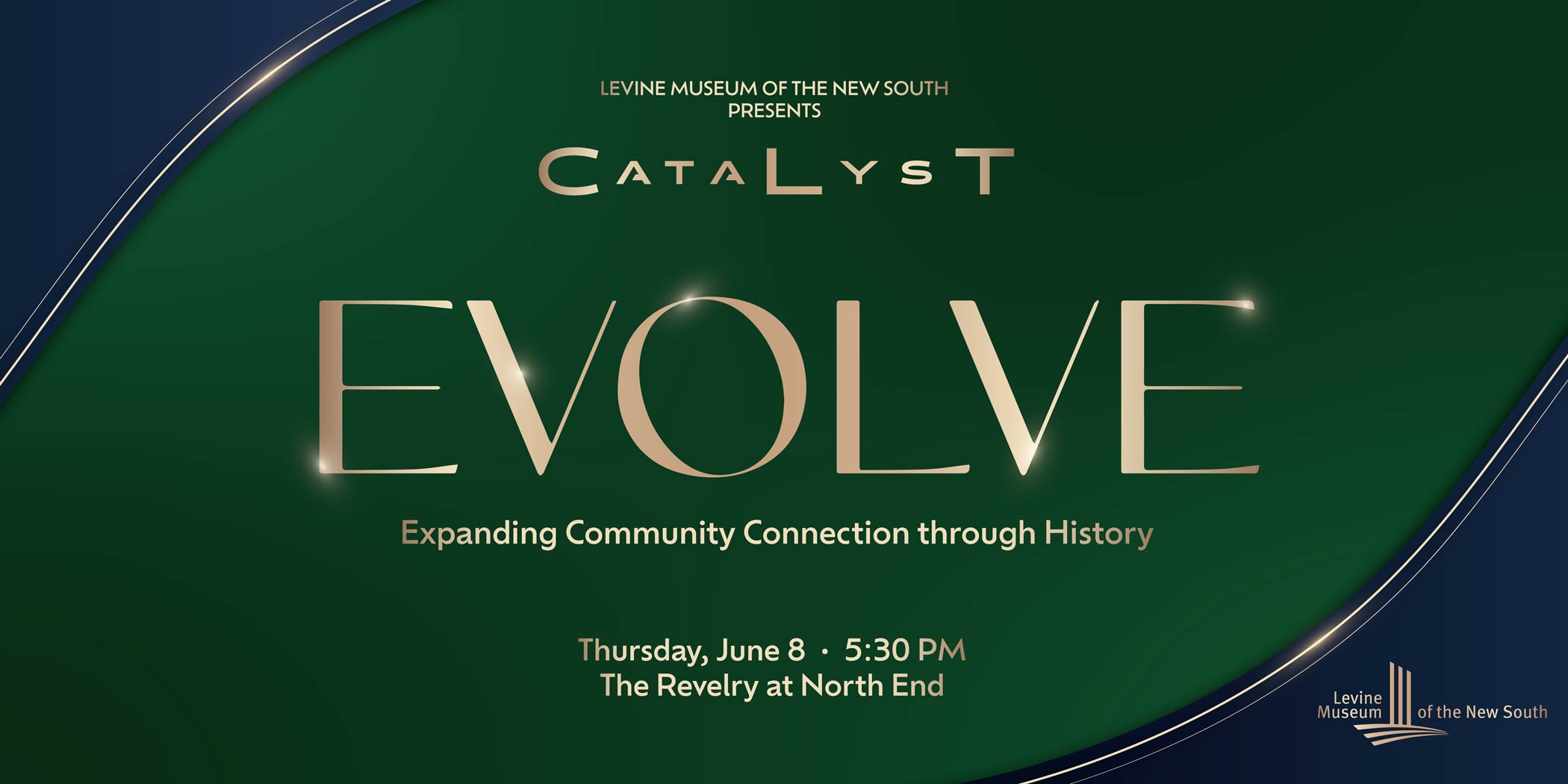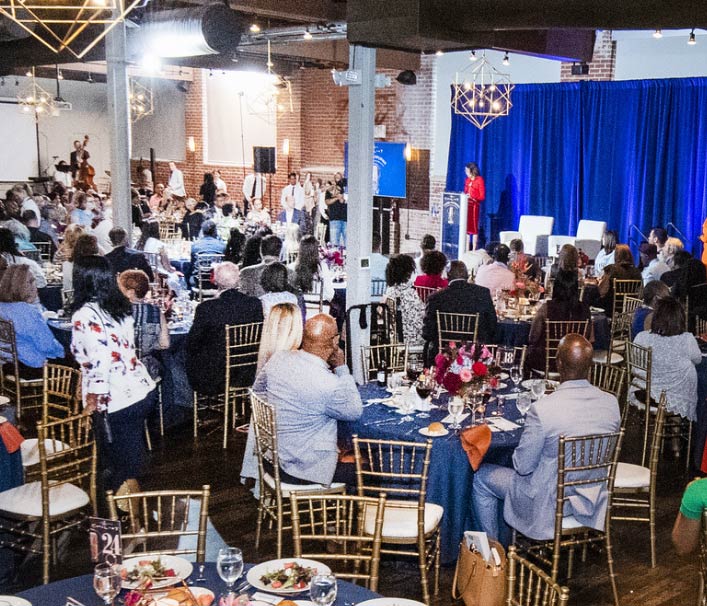 register today
Catalyst
Thursday,
June 8th, 2023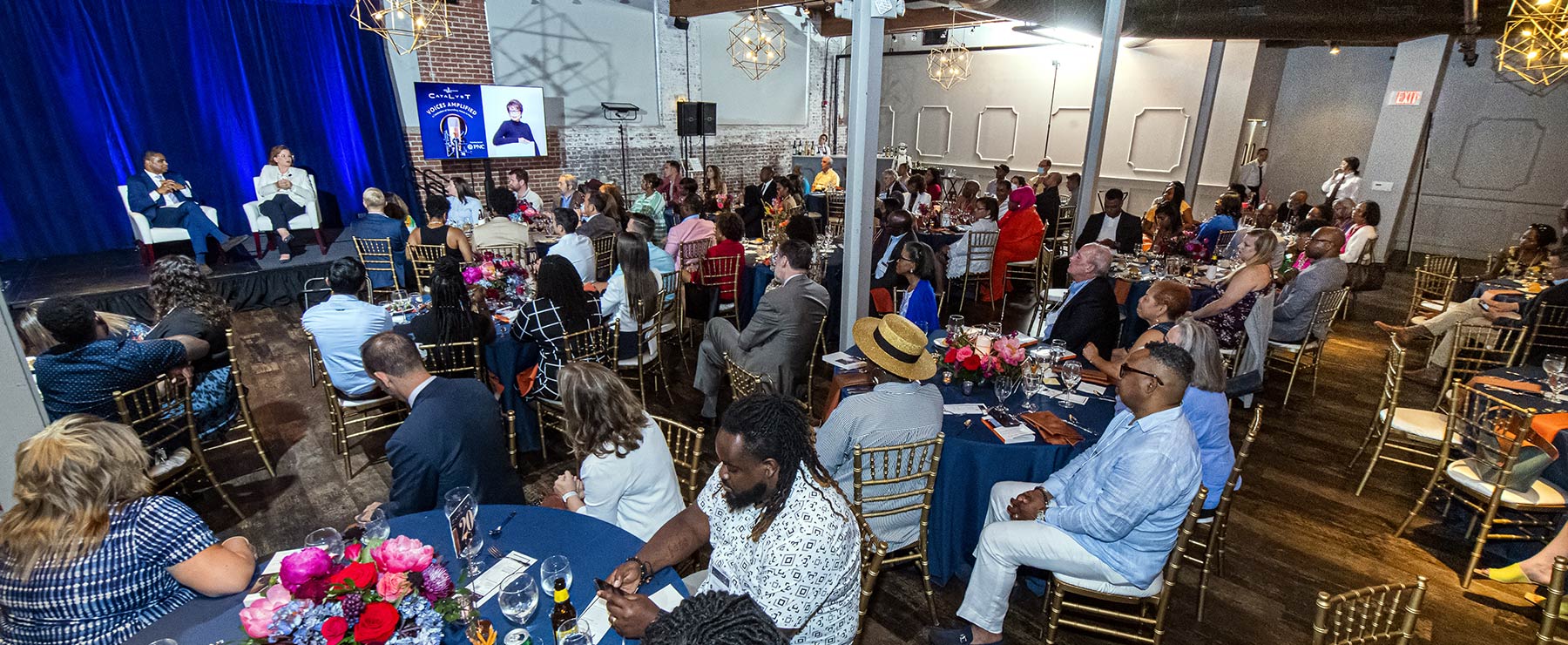 Visionary Circle Champions
Early Access to the Event
Access to Exclusive VIP Section
Meet and Greet with Performers
Signature Drink
Special Giveaway
Learn more about the Visionary Circle Champion
giving level and make a donation.
Become a Visionary Circle Champion
About CataLysT
CataLysT brings together motivated and influential leaders, activists, artists, and historians from across our community to advance the critically important work of the Levine Museum of the New South. For over 30 years, Levine Museum has used history to build stronger, more equitable communities through exhibitions that tell everyone's story with unflinching honesty, through programs that challenge us to consider the world from different perspectives, and through events that celebrate the region's rich and dynamic cultural diversity.
As Charlotte changes, Levine Museum is evolving with the city. We are establishing new and ambitious digital and real-time platforms that enable us to use history to build community more effectively beyond the walls of a single facility. This year, we present our annual fundraiser, celebrate our growth, and honor some of our catalytic community partners, Latin American Coalition and UNC Charlotte Urban Institute because our expansion and work is reliant on our partners who help us continue to build community.
We'll enjoy a memorable evening, including guest speaker, civil rights activist Toussaint Romain, emcee Hannah Hasan, dinner, cocktails, community, celebration, and fun & engaging performances by Andrew Finn Magill, Drums 4 Life, and The NC Brazilian Arts.
As Levine Museum seeks to reach more people in increasingly exciting and innovative ways through digital projects and community collaborations, we need you to join us and help us build a stronger and more equitable Charlotte.
Toussaint Romain
GUEST SPEAKER
Chief Executive Officer, Charlotte Center for Legal Advocacy
Toussaint Romain assumed his role as Charlotte Center for Legal Advocacy's Chief Executive Officer in May of 2022. Toussaint's experience, leadership, and passion for justice will drive the Advocacy Center as it enters a new chapter of impact and growth.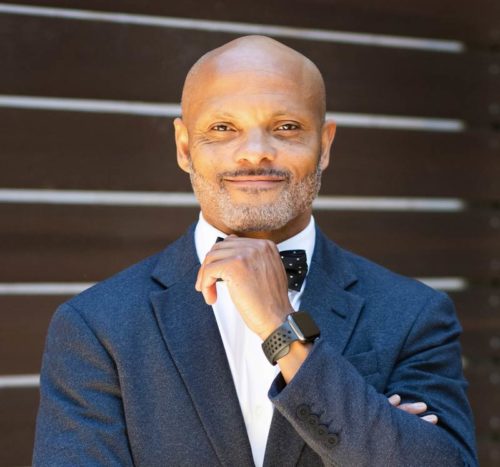 Before joining the Advocacy Center, Toussaint worked most recently as the Deputy General Counsel for Appalachian State University. Prior to that, Toussaint spent ten years as an Assistant Public Defender in Mecklenburg County. He has led legal trainings and taught courses in Constitutional Law and Mass Incarceration. In addition, Toussaint has served as a national speaker presenting on issues of Leadership, Systemic Racism & Sexism and Criminal Justice Reform. Prior to earning his law degree in 2007, Toussaint worked for federal prosecutors, federal and state judges, large law firms, the National Institute of Justice, and U.S. Senator John Edwards.
"I am excited, yet humbled, to serve as the CEO of Charlotte Center for Legal Advocacy," said Toussaint. "I am passionate about indigent defense and systemic advocacy. I have devoted my life and profession to this type of work and I look forward to joining a team at the Advocacy Center that shares my passion. There is so much that we can accomplish – together. The impact that we will make for our clients while also creating access to upward mobility is invigorating. It will be our legacy and I cannot wait to begin!"
Hannah Hasan
EMCEE
Hannah Hasan is a recipient of the 2021 Hermitage Fellowship and an award-winning, highly acclaimed spoken word poet and storyteller who believes that our stories can set us free, with the themes that center home, social justice, racial justice, women's rights, and more. Hannah is often commissioned to write and perform customized powerful poetry and provide speeches and workshops for events, conferences, and meetings.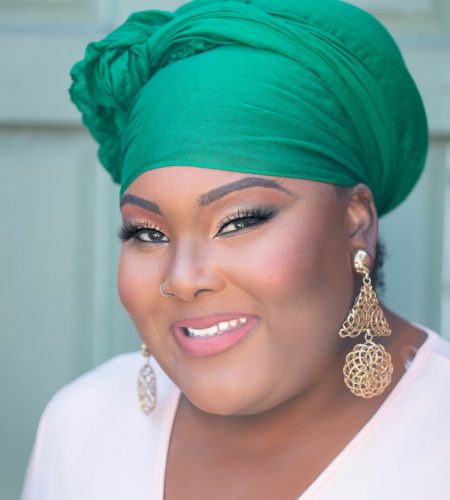 Hannah has interviewed hundreds of people throughout the United States, written their stories, and recruited and managed storytellers – who learned these stories and performed them for different storytelling events – that were all created to shed light on some of the most important social issues of our time.
In addition to her work as a performance artist, Hannah is a skilled event hostess and facilitator. Hannah graduated from North Carolina A&T University with a Bachelor of Arts and Full Sail University with a Master of Fine Arts and she lives in Charlotte with her husband Jamaal.
PERFORMERS
North Carolina Brazilian Arts Project
The North Carolina Brazilian Arts Project was founded in 2016 by Brazilian culture aficionados in the Charlotte and the Triangle areas. They work toward fulfilling their dreams of deepening their knowledge and sharing their passion of Brazilian movement forms such as samba, samba reggae, Afro-Brazilian dance, capoeira, maculelê, and percussion.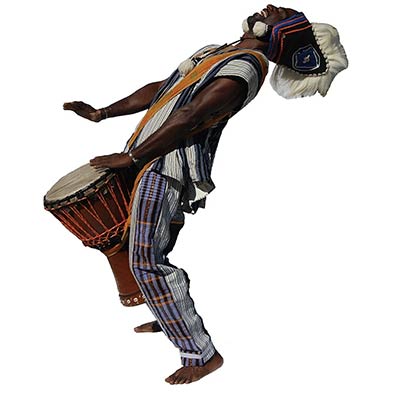 Drums 4 Life
Kojo Bey has been performing and teaching African drumming as a healing art for 20 years. He has facilitated drum circles at Fortune 500 companies, such as ESPN, Pfizer Pharmaceuticals, Bank of America, Verizon, and others. Kojo's early "overstanding" about the healing of music led him to study with Master Teachers from around the world. You can find Kojo leading drum circles throughout the U.S. to support humanitarian efforts both domestically and abroad for the non-profit organization he founded 16 years ago.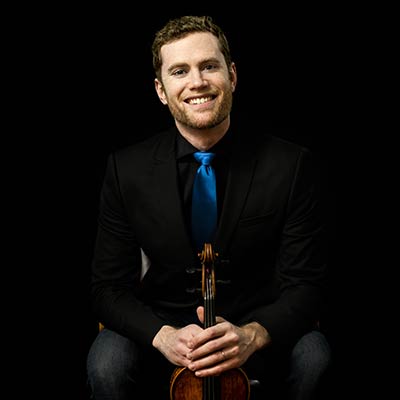 Andrew Finn Magill
Andrew grew up studying Irish, old-time, and bluegrass with dozens of the best fiddlers in the world every summer. He has performed at venues which include Milwaukee Irish Fest, Celtic Connections, Olympia Hall in Paris, Disneyworld, and Malawi's Lake of Stars Festival. Finn has given lectures at universities across the country and museums across North Carolina. Finn has taught traditional Irish music, bluegrass, Brazilian choro, and old-time at over a dozen fiddle camps across the U.S, Scotland, Canada, Brazil, and France.
Jazz Arts
JazzArts Charlotte's mission is to connect the cultural community and develop an audience for jazz through quality education, performance, and musician support. JazzArts strives to be a catalyst for cultural enrichment and music education that brings creative inspiration to the lives of the citizens of the Charlotte, NC region. JazzArts is the only nonprofit in Charlotte region that is dedicated to jazz education and performance, serving over 50,000 students in JazzArts Academy education programs since 2011 and reaching over 12,000 audience members annually through its performance-based programs. JazzArts was found to have the most diverse arts audience in Charlotte, NC [2022 ArtMarket Audience research study].
Jah Smalls
Jah Smalls was born and raised in the East New York section of NYC. Coach Jah Smalls is both a poet and MC.  Alongside his biological brother (Mr. Witz), Jah Smalls is part of "Grannae's Boyz," highlighting the nickname given to their mother (Grannae). Grannae's Boyz has become a cornerstone within the Charlotte-Mecklenburg community and celebrated their 9th year anniversary in June 2022.
Event FAQs
Schedule
The VIP event begins promptly at 5:30 p.m. and runs until 6:30 p.m. Program and dinner will begin at 6:30 p.m. for both non-VIP and VIP attendees. Please allow enough time for parking and check-in.
What is the cost to attend? If there is no cost to attend, how do I support the museum?
There is no cost to attend. As Levine Museum seeks to reach more people in increasingly exciting and innovative ways through digital projects and community collaborations, we need you to join us and help us build a stronger and more equitable Charlotte. Attendees will be asked during the evening to make a gift to Levine Museum of the New South. Suggested minimum gift amount of $100.
How do I register?
If you are the guest of a table captain, register here and search for your table captain's name to complete your registration. If you are not the guest of a table captain, please register here and follow prompts to complete your registration.
I can't attend, but still want to support Levine Museum of the New South?
You may still do so by visiting our Donate page. All contributions from the evening benefit Levine Museum's efforts to continue empowering and celebrating the brave storytellers and catalysts in our community who inspire action toward a better future.
Photography and Video Guidelines
Photography and video recording are permitted.
Contact Information
For information regarding the event, please contact Chris Barbee, Director of Development, at 704-333-1887 ext. 231 or cbarbee@museumofthenewsouth.org.
If you would like to be a sponsor of CataLysT 2023, please contact Kate McAllister, Director of Corporate and Foundation Partnerships, at 704-333-1887 ext. 242 or kmcallister@museumofthenewsouth.org.
If you require special assistance, please contact Chris at least 3 days prior to the event.
Presenting Sponsor

---
Gold Sponsor


---
Silver Sponsor

---
Historian