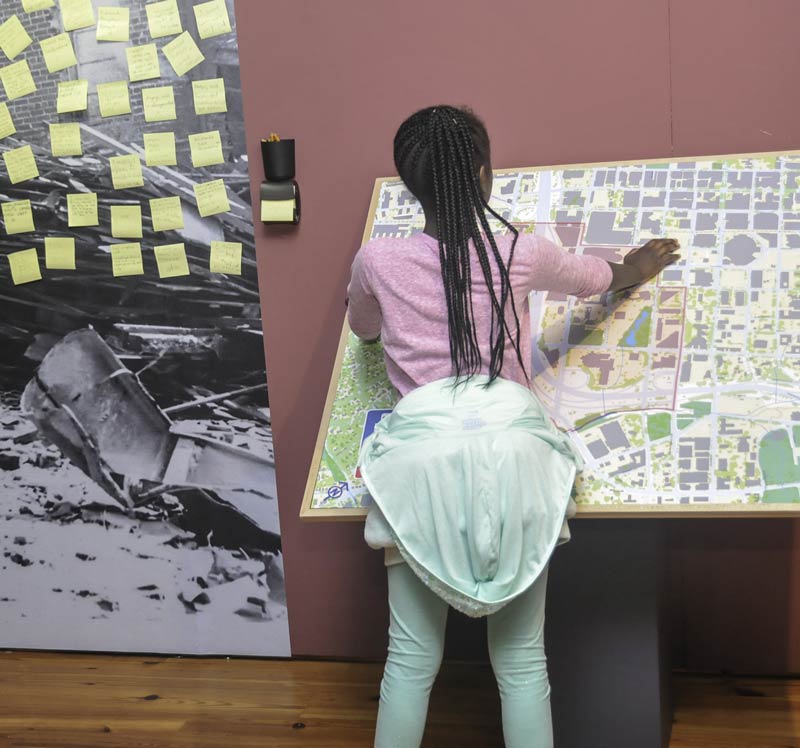 engage your students
Experience History In-Person or Virtually
We work closely with schools and educators to provide immersive educational programming for students from kindergarten through 12th grade that follow the NC Standard Course of Study. Student groups are welcome to explore the museum, take a guided or self-guided tour or join a virtual tour. For more information, complete the interest form below.
Walking Tours
Tour length: 90 minutes to 2 hours
Max size for guided: 100
Take your group on a self-guided or guided walking tour of Charlotte's historic Brooklyn neighborhood in Uptown Charlotte with our free KnowCLT app, which allows you to see seven historic sites in Brooklyn as they once were through augmented reality!
Guided experiences begin in historic Second Ward. Your guide will provide historic background on Brooklyn and Charlotte's history as your group walks between each of the seven locations on the tour.
Paid car parking is available in the lot by historic Grace AME Zion Church (219 S. Brevard St.).
There is first-come, first-served bus parking at 500 S. Brevard St. in the lanes before and after the parking deck at the nearby NASCAR Hall of Fame.
Headphones are strongly recommended.
IN-PERSON VISITS
Recommended time: 1 hour
Max group size: 35
Visit us in person at 401 S. Tryon St., beside The Green, between Bernardin's Restaurant and the Three Wells Fargo Lobby.
Check out our Current Exhibitions page to see what students can explore on-site at the museum.
Admission to the museum is free.
Group visits can be scheduled Tuesday through Sunday during the Museum's open hours.
The closest paid car parking options are Three Wells Fargo Center at 401 S. Tryon St. or The Green deck at 425 S. Tryon St. Please visit CK Parking for a parking map.
Group buses may drop off and pick up in front of the Museum at 401. S. Tryon St. There is first come, first served bus parking at 500 S. Brevard St. in the lanes before and after the parking deck at the nearby NASCAR Hall of Fame.
There are no lunch facilities at the Museum, but there are many restaurants in walking distance.
VIRTUAL GUIDED TOURS
Virtual tours include information provided by museum staff, interactive participation opportunities, and a chance for a Q&A. Supplemental material can be provided.
Tour Length: 1 hour
Max group size: 85
Growing Up in the New South: Journey through 150 years of New South history from a young person's perspective. Learn about the experiences – from every day to revolutionary – of sharecropping children, mill kids, and young freedom fighters of the Civil Rights movement.
New South, New Women: Learn about the lives and achievements of Piedmont women and their agency in the labor, suffrage, and Civil Rights movements and beyond.
Carolina Civil Rights Journey: Discover the triumphs and challenges faced by African Americans in the New South after the end of slavery and how Black North Carolinians fought for the promises of the New South to be kept.
Brooklyn, Once a City Within a City: Explore the rise and demise of Charlotte's Brooklyn neighborhood, once the most thriving and vibrant Black community in the Carolinas, and how its story is still relevant today.

K-12 Group
Reservation Form