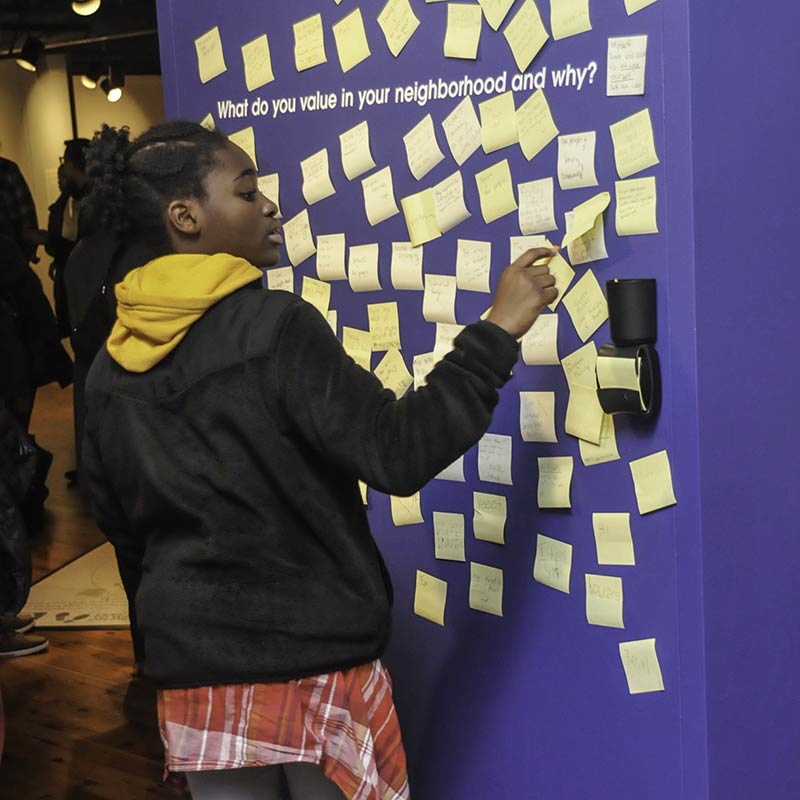 resources for educators
Beyond the Classroom
Immerse students in history, culture, and social issues through Levine Museum of the New South, from in-person exhibitions to walking tours to digital programming that inspires young people and enhances their education.
Field Trips
Bring your group to our museum at 401 S. Tryon Street, beside The Green, to explore our Current Exhibitions.
Admission is always free. Guided experience prices vary by program and group size.

KnowCLT
Take your group on a self-guided or guided walking tour of Charlotte's historic Brooklyn neighborhood with our free KnowCLT app, which allows you to see seven historic sites in Brooklyn as they once were through augmented reality.
Educator Professional Development
Check our Professional Development page for updates on upcoming workshop registrations for the following topics:
Facilitating Effective Classroom Discussions
Inquiry? Creating Opportunities for Student Questioning in the Classroom
Teaching with Primary Sources
Educator Newsletter
Stay up to date on our educational offerings through our quarterly newsletter specifically for educators.
Virtual Guided Tours
One-hour tours include information provided by Museum staff, interactive participation opportunities, and a chance for a Q&A.
Supplemental materials can be provided with booked virtual tours on request. Themes include:
Growing Up in the New South
New South, New Women
Carolina Civil Rights Journey
Brooklyn, Once a City Within a City
Standards Addressed
Kindergarten: B.1, K.G.2, K.H.1
First Grade: C&G.1, 1.G.2, 1.H.1
Second Grade: C&G.1, 2.E.1, 2.G.1, 2.H.1
Third Grade: B.1, 3.E.1, 3.G.1, 3.H.1
Fourth Grade: C&G.1, 4.E.1, 4.G.1, 4.H.1
Fifth Grade: B.1, 5.C&G.2, 5.E.1, 5.G.1, 5.H.1
Sixth Grade: G.1, 6.H.1
Seventh Grade: B.1, 7.H.1
Eighth Grade: B.1, 8.C&G.1, 8.C&G.2, 8.E.1, 8.G.1, 8.H.1; 8.H.2
American History: B.1, AH.B.2, AH.C&G.1, AH.C&G.2, AH.E.1, AH.G.1, AH.H.1, AH.H.2, AH.H.3
Civic Literacy: C&G.3, CL.H.1