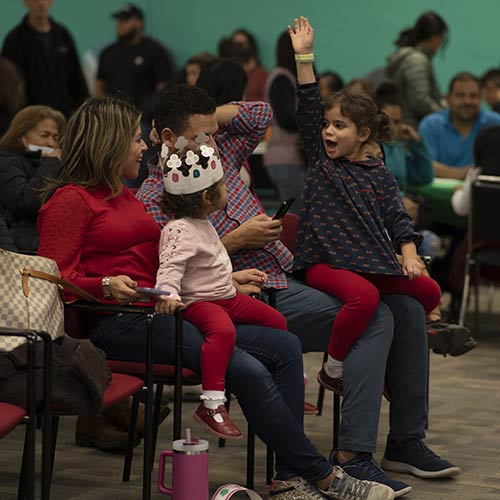 explore our exhibitions
Levine Museum Is Everywhere
From our location in Uptown Charlotte, to traveling exhibitions in different neighborhoods, to in-person community events, to self-guided and virtual tours, discover history of the Carolinas in a new way with the Levine Museum of the New South.
Uptown Charlotte Museum
Visit our location uptown where we offer rotating exhibitions that explore issues relevant to the history of the greater Charlotte metro area and spark curiosity about our world today.
Free admission
Open Tuesday through Sunday, closed Mondays
Located beside the Green, between Bernardin's Restaurant and the Three Wells Fargo Lobby.
The closest parking deck is The Green deck at 425 S. Tryon St., which is accessible via S. Tryon Street or S. College St.
History in the Community
Engage with us throughout the community – with Family Day celebrations, pop-up exhibitions (always free), events and digital experiences in neighborhoods around Charlotte.
Family Day – These free, festival-style day-long events happen five times a year.
Special Programming – We partner with other community organizations to host in-person programs and speakers on a variety of topics.
Virtual Events – Join us for virtual events throughout the year that provide a platform for conversations about relevant issues.
Youth Voices – Through these programs by and for youth, we address complex problems that impact them.
Sign up to receive our e­­­mails and check our Event Calendar weekly to make plans to join us.
Field Trips + Groups
Each visit with us allows you to explore Charlotte's history and changing landscape to give context for contemporary issues and inspire reflection and empathy.
We host field trips for students of all ages that fit with curriculum requirements, as well as group tours for adults and organizations. Check out our Field Trips and Groups pages for more information.
Get to KnowCLT
Grab your headphones, take a stroll around Uptown Charlotte, and explore the history of the city's people, places and promises with our free app, KnowCLT.
Download the free KnowCLT app, an immersive GPS-based experience of Charlotte's historic Brooklyn neighborhood.
Brooklyn was razed by urban renewal in the 1960s.
Explore Brooklyn by foot in Second Ward or virtually from your home.
Experience includes photos, narration, poetry, and the voices of several former Brooklyn residents.
If on foot, hold your phone up to the location of seven former historic sites in Brooklyn to see them come alive through augmented reality.
401 S Tryon St., Charlotte, NC