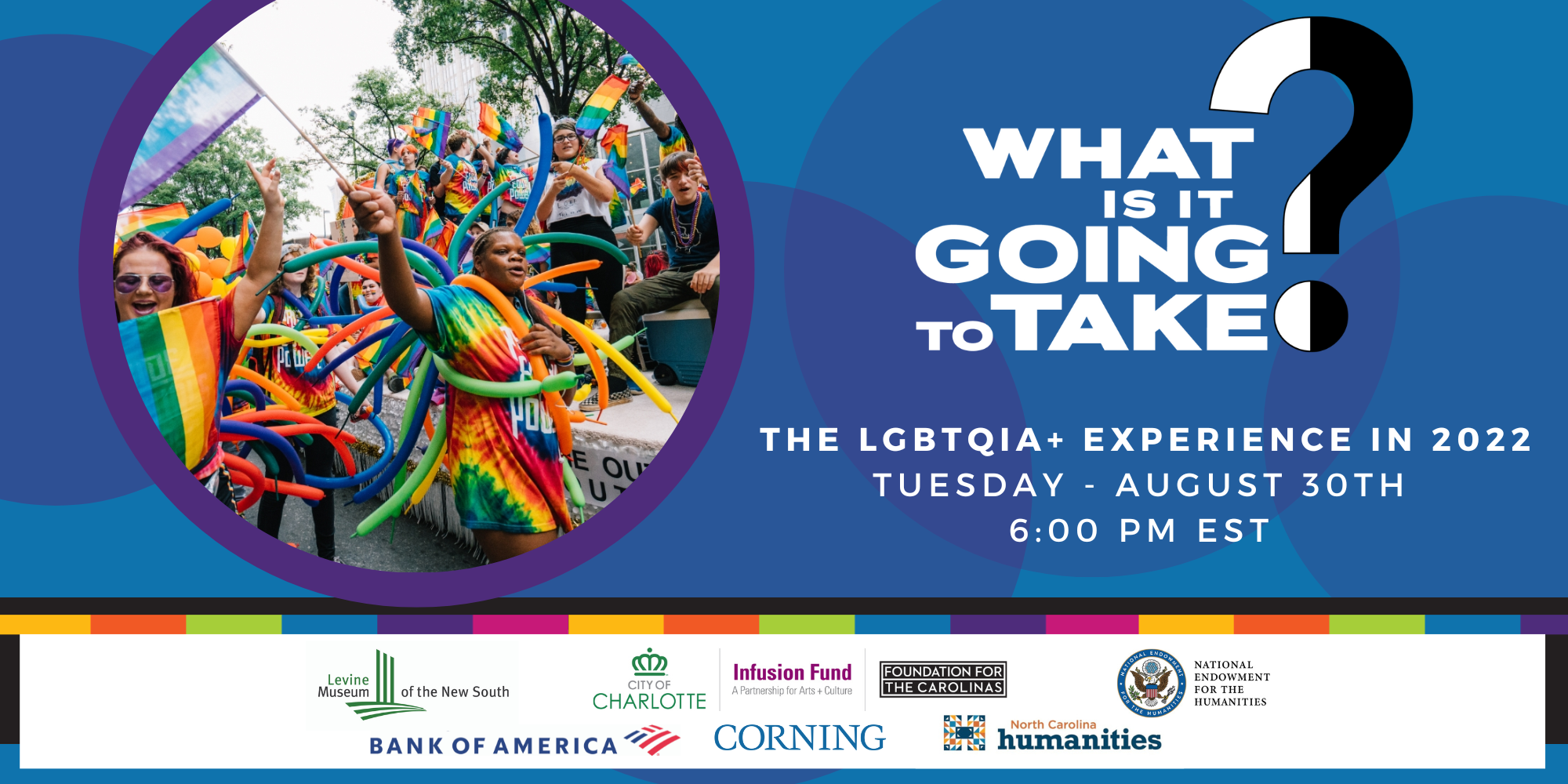 What Is It Going To Take? The LGBTQIA+ Experience in 2022
The LGBTQIA+ community has been fighting for equality for years. We see these struggles through important historical events such as the Stonewall Riots (1969), The Matthew Shepard and James Byrd Jr. Hate Crimes Prevention Act (2009), the legalization of same-sex marriage (2015), and the ban of transgender Americans joining the military (2019), later repealed by executive order (2021).
LGBTQIA+ issues are increasingly important in the national conversation about civil rights, freedom, and legislative and judiciary reform. With recent efforts to codify same-sex marriage, the introduction and passing of "Don't Say Gay" legislation, and multiple attacks by extremist groups, the struggle for LGBTQIA+ equality is ongoing in 2022.

Our panel offers participants a chance to hear and consider what equality looks like for LGBTQIA+ individuals. What is the modern LGBTQIA+ experience? How are recent and historical events impacting the community? Join us as we address these questions in a conversation moderated by Daniel Valdez (Charlotte Pride) alongside Karen Graci (PFlag Charlotte) and Kent Brintnall (UNC-Charlotte).
Join Us In Person!
Holy Trinity Lutheran Church
1900 The Plaza, Charlotte, NC 28205
---
Our Panelists
Daniel Valdez is the Senior Director of External Affairs at Welcoming America. He has more than ten years in nonprofit management, working with organizations like the Hispanic Federation, Crisis Assistance Ministry, the Latin American Coalition and Carolinas CARE Partnership. He is passionate about using his talents and experience to advance the mission of organizations working on systemic changes in an effort to make the world a better place for all. Daniel was born in Acapulco, Mexico and grew up in North Carolina. He holds a B.A. in History and Latin American Studies from the University of North Carolina at Charlotte and a certificate in Nonprofit Management from Duke University. Daniel has served on the boards of The Charlotte Lesbian and Gay Fund, The Bruce Iron Camp Fund, and Reel Out Charlotte. Daniel serves on the Board of Directors of Charlotte Pride and served as president from 2017 to 2021.
As the first Executive Director for PFLAG Charlotte, Karen Graci (she/her) leads the organization's efforts to strengthen families, empower LGBTQ+ allies, and elevate LGBTQ+ voices through peer support, education, and outreach. Through her role at PFLAG, Karen meets families and organizations where they are, offering peer support, leading educational programming, and collaborating with corporate and community leaders to nurture a kinder and more inclusive world. Previously, Karen worked with Deloitte in Washington, D.C., Wilton, CT, and Charlotte, NC, where her roles included Manager of National Recruiting and Chief of Staff, National Human Resources.
Kent Brintnall is an associate professor at UNC Charlotte where he is affiliated with the Religious Studies Department and the Women's & Gender Studies Program. His research and teaching focus on gender, sexuality, sexual violence, critical theory, and religion.
Eliazar Posada serves as the Organizing Director of Equality NC, the oldest statewide organization in the country dedicated to securing rights and protections for the LGBTQ Community. He became the first openly LGBTQ Latino elected in North Carolina after winning a special election on May 17, 2022. Born in Florida and raised in the Rio Grande Valley in south Texas, he has worked and lived in Carrboro, NC, since 2016.