On this document it states:
"This map describing the scituation [sic] of the several nations of Indians to the NW of South Carolina was coppyed [sic] from a draught drawn & painted on a deer skin by an Indian Cacique and presented to Francis Nicholson Esqr. Governor of South Carolina by whom it is most humbly dedicated to his Royal Highness George, Prince of Wales."
"This map is notable for being among the few surviving maps from the colonial period in North America that were originally authored by Native Americans, as opposed to early European colonizers…
The Catawba Deerskin Map was a map drawn on deerskin and presented to Francis Nicholson, the colonial governor of South Carolina, around 1721. The original map, believed to have been authored by Indians of the Catawba Nation, has been lost. However, Nicholson had two copies of the map made and returned to London, thereby ensuring this rare preservation of indigenous cartography from the colonial period.
The map is a stylistic representation of the Indian nations between Charlestown (Charleston, South Carolina) and the colony of Virginia. The map is oriented so that southerly features are on the left side, while northerly features are on the right. European settlements are depicted in squares and straight lines, while Indian nations appear in circles. The "Nasaw" is shown as the most central community of the Catawba Nation, appearing in the center of the map as the largest circle. Furthermore, the translated text written in English in the copied map labels "The English Path to Nasaw." Peripheral to Nasaw are various other Indian communities…" (From Library of Congress Blogs by Tim St. Onge)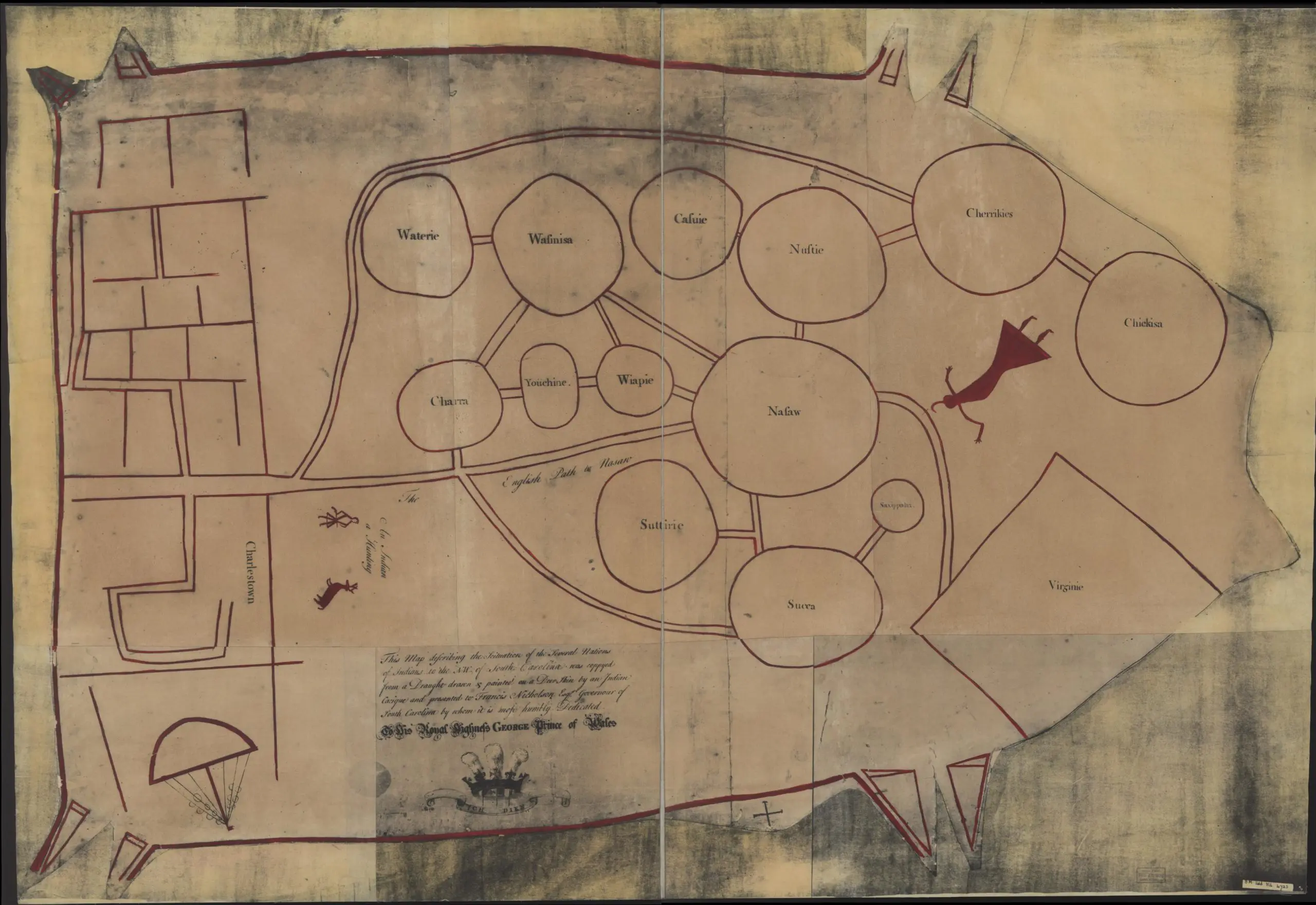 Citation: Nicholson, Francis. Map of the several nations of Indians to the Northwest of South Carolina. [S.l.: s.n, 1724] Map. Library of Congress, www.loc.gov/item/2005625337/. Accessed 3 September 2023. 
The circles on the map are meant to represent Native American settlements while the English settlements are drawn in squares and have more detail. Why do you think they drew the two different groups in this way?
What does this map suggest about the interaction and movement of people, goods and ideas?
What do the symbols on the map seem to suggest about different geographic features?
Cartography: science or practice of drawing maps
Stylistic: more representative or symbolic than realistic or literal