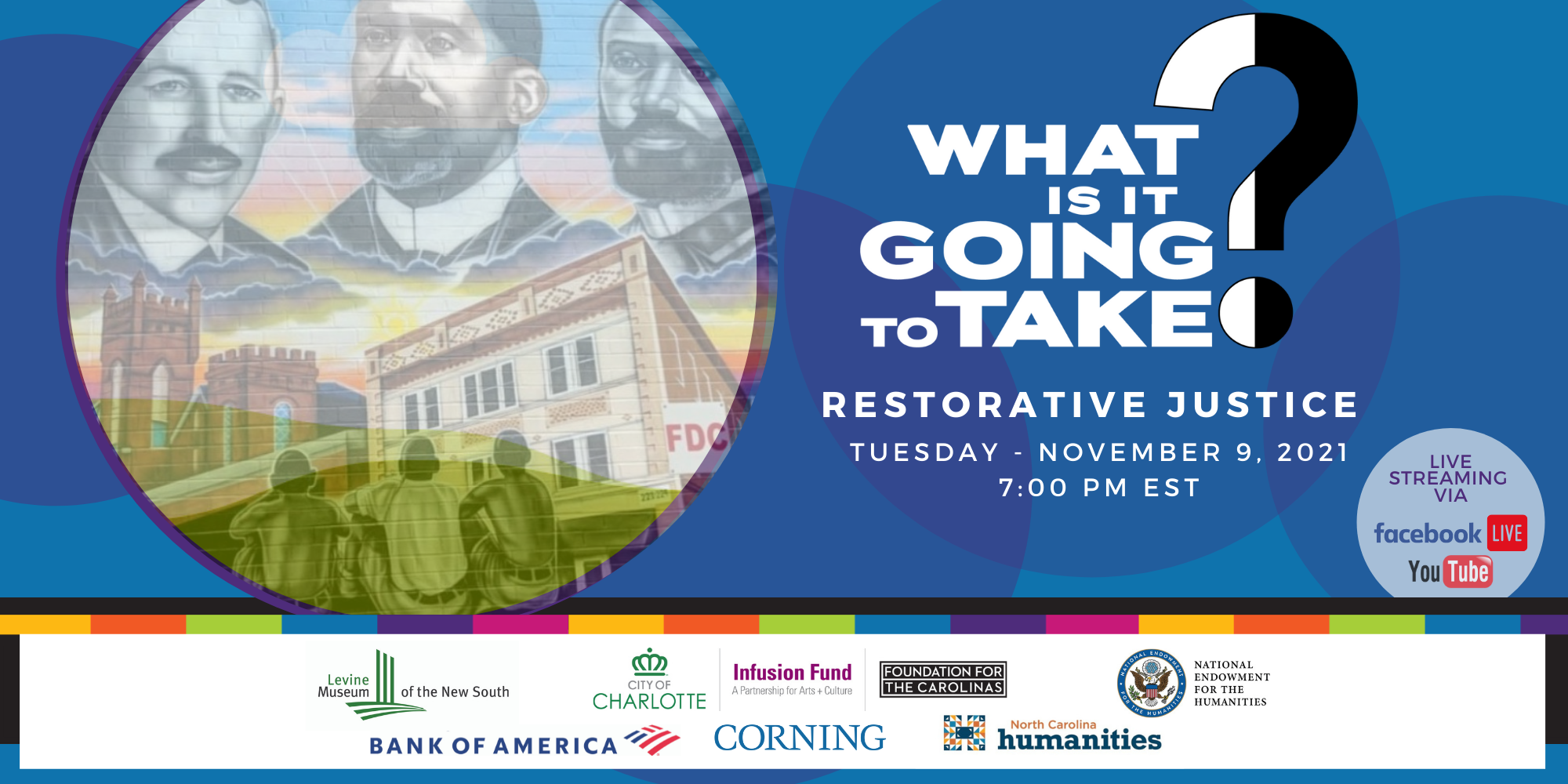 What Is It Going To Take? Restorative Justice
The history of Brooklyn, Charlotte's Second Ward neighborhood and once one of the most thriving and vibrant Black communities in the Carolinas, reminds us of the consequences of urban renewal and what a community may lose in the name of progress and growth. 
Join us for a discussion moderated by Mary Newsom, alongside Commissioner Mark Jerrell, Lindsey "Trey" Crumlin and Dr. Willie Keaton to explore the concept of Restorative Justice as we give voice to community members working to enact transparent, accountable, and sustainable projects to redress the history of discriminatory practices and policies. 
If you do not understand the history that got us to this place, then you will not make a difference. We need to understand that history to ask the right questions and work towards change.
---
How to Watch:
---
Meet the Panelists:
Mark Jerrell is a long-time resident of Mecklenburg County, serving his second term on the Mecklenburg Board of County Commissioners. His wife Whitney and two daughters, who he refers to as his "pride" and "joy", have been the primary source of inspiration behind his public service efforts. 
Mark is a proud veteran, having served in the United States Army Reserve and the North Carolina Army National Guard. He is a former Executive Committee member of the Black Political Caucus where he served as Chair of the Get out the Vote and Legislative committees and Co-Chair of the Economic Development committee. He was instrumental in the development of a scorecard to ensure accountability among local elected officials. He is also an active member of his church, Weeping Willow AME Zion, where he serves as a trustee.
Professionally, he has worked for several fortune 500 companies as an Operations Manager and currently runs a Speech Therapy company with his sister. They have 2 locations and serve 21 counties throughout North Carolina. Mark holds a Bachelor's degree in Political Science and an M.B.A.
Dr. Willie J. Keaton Jr As a Pastor, Willie J. Keaton Jr has always had a deep concern and a passion for serving those in the community, who were not able to advocate or speak for themselves.  Pastor Keaton has a significant history of working with at-risk children and vulnerable adults. Dr. Keaton has been an advocate for justice, equality and ending mass incarceration of African Americans, being honored in Charlotte and Jersey City with NAACP Freedom Fund Award-Pastor Keaton is currently serving as Pastor of Mt. Olive Presbyterian Church and President of Restorative Justice CLT based in Charlotte N.C..  Pastor Keaton also graduated from Drew Theological Seminary, 2018 with a Doctorate in Ministry having written his project on the subject of "Discipleship in the Era of Mass Incarceration of African Americans.
Lindsey "Trey" Crumlin is a Consultant Relations at Principal Global Investors and currently serves as a board member for Restorative Justice CLT.
Mary Newsom is a lifelong newspaper journalist who spent several decades at The Charlotte Observer as an editorial board member and columnist, concentrating on Charlotte regional urban and suburban growth, planning, urban design, transportation and land preservation. She left the Observer and joined the UNC Charlotte Urban Institute in 2011. She had a year-long Nieman Fellowship at Harvard University 2007-08, and in 2005-06 was a Knight Fellow in Community Building at the University of Miami. Newsom retired from the institute in 2018 as Director of Urban Policy Initiatives, and is now a freelance writer in Charlotte.