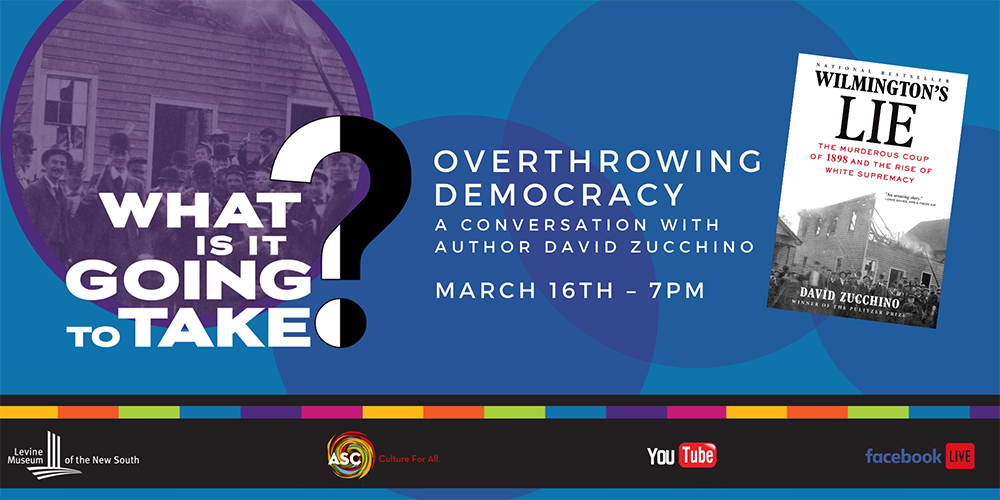 What is it going to take? Overthrowing Democracy
The events that took place on January 6 at the U.S. Capitol are not unique in American history.
Join us as we sit down with David Zucchino and political science professor Michael Bitzer, to discuss Zucchino's book: Wilmington's Lie: The Murderous Coup of 1898 and the Rise of White Supremacy, which chronicles the only successful coup in American history. Zucchino and Dr. Bitzer will explore this tragic event, which provides context for us to better understand what the nation and world witnessed on January 6, 2021. 
You can purchase your copy of Wilmington's Lie from local Charlotte based bookstore, Park Road Books, here (https://www.parkroadbooks.com/book/9780802148650)
______________________________________________________________________________________________
David Zucchino
David Zucchino is a contributing writer for The New York Times. He has covered wars and civil conflicts in more than two dozen countries. Zucchino was awarded a Pulitzer Prize for his dispatches from apartheid South Africa and is a four-time Pulitzer Prize finalist. He has reported from more than three dozen countries, most recently from Iraq and Afghanistan. He is the author of "Thunder Run: The Armored Strike to Capture Baghdad" (2004) and "Myth of the Welfare Queen" (1997).
______________________________________________________________________________________________
Dr. J. Michael Bitzer
Dr. Bitzer is a professor of politics and history at Catawba College, where he teaches a number of courses in the fields of American politics, public administration & policy, and law. Along with his teaching responsibilities, he serves as a political analyst for several media sources and as pre-law advisor. Dr. Bitzer also blogs about North Carolina politics at www.OldNorthStatePolitics.com.
He has conducted research in Southern politics (focusing on South Carolina and North Carolina politics and elections), U.S. campaigns and elections, state politics, the bureaucracy, and civil rights in the American South. Most recently he published two books on North Carolina politics: "The New Politics of the Old South" and "The Future Ain't What It Used to Be: The 2016 Presidential Election in the South," both co-authored with Dr. Charles Prysby of UNC-Greensboro.
______________________________________________________________________________________________
About Wilmington's Lie
By the 1890s, Wilmington was North Carolina's largest city and a shining example of a mixed-race community. It was a bustling port city with a burgeoning African American middle class and a Fusionist government of Republicans and Populists that included black aldermen, police officers and magistrates. There were successful black-owned businesses and an African American newspaper, The Record. But across the state—and the South—white supremacist Democrats were working to reverse the advances made by former slaves and their progeny.
In 1898, in response to a speech calling for white men to rise to the defense of Southern womanhood against the supposed threat of black predators, Alexander Manly, the outspoken young Record editor, wrote that some relationships between black men and white women were consensual. His editorial ignited outrage across the South, with calls to lynch Manly.
But North Carolina's white supremacist Democrats had a different strategy. They were plotting to take back the state legislature in November "by the ballot or bullet or both," and then use the Manly editorial to trigger a "race riot" to overthrow Wilmington's multi-racial government. Led by prominent citizens including Josephus Daniels, publisher of the state's largest newspaper, and former Confederate Colonel Alfred Moore Waddell, white supremacists rolled out a carefully orchestrated campaign that included raucous rallies, race-baiting editorials and newspaper cartoons, and sensational, fabricated news stories.
With intimidation and violence, the Democrats suppressed the black vote and stuffed ballot boxes (or threw them out), to win control of the state legislature on November 8th. Two days later, more than 2,000 heavily armed Red Shirts swarmed through Wilmington, torching the Record office, terrorizing women and children, and shooting at least sixty black men dead in the streets. The rioters forced city officials to resign at gunpoint and replaced them with mob leaders. Prominent blacks—and sympathetic whites—were banished. Hundreds of terrified black families took refuge in surrounding swamps and forests.
This brutal insurrection is a rare instance of a violent overthrow of an elected government in the U.S. It halted gains made by blacks and restored racism as official government policy, cementing white rule for another half century. It was not a "race riot," as the events of November 1898 came to be known, but rather a racially motivated rebellion launched by white supremacists.
Outlets
"A judicious and riveting new history… The publication of a book like Zucchino's, [is] a sign that, however late and reluctantly, America is becoming conscious of the racial violence that insured white supremacy after Reconstruction."—New Yorker
"In his new book, the Pulitzer prize-winning journalist David Zucchino illuminates a harrowing historical incident, the Wilmington coup of 1898, that is long forgotten by most. In doing so, he does a lot to explain our own interesting times… In his riveting book, Zucchino retells one horrifying attempt to re-establish the 'rightful place' of former slaves: starkly isolated, with scant hope of parity."—Guardian
"Wilmington's Lie shows how effectively people in power can distort history. And yet it also proves that the past isn't easily erased. We still don't know how many black people died in Wilmington, and we also don't know many of their names. But the truth—much of it—has finally come out."—Charlotte Observer
"Brilliant… Zucchino reports his way through the action and the personal stories with great care, culminating in the central story that has been covered up over the last century: the stunning overthrow of the legitimately elected Wilmington city government… David Zucchino dedicates Wilmington's Lie 'to the dead and banished, known and unknown.' Through this act of documenting, he brings truth to the lie."—Southern Review of Books
"Wilmington's Lie is a riveting and mesmerizing page turner, with lessons about racial violence that echo loudly today."—BookPage