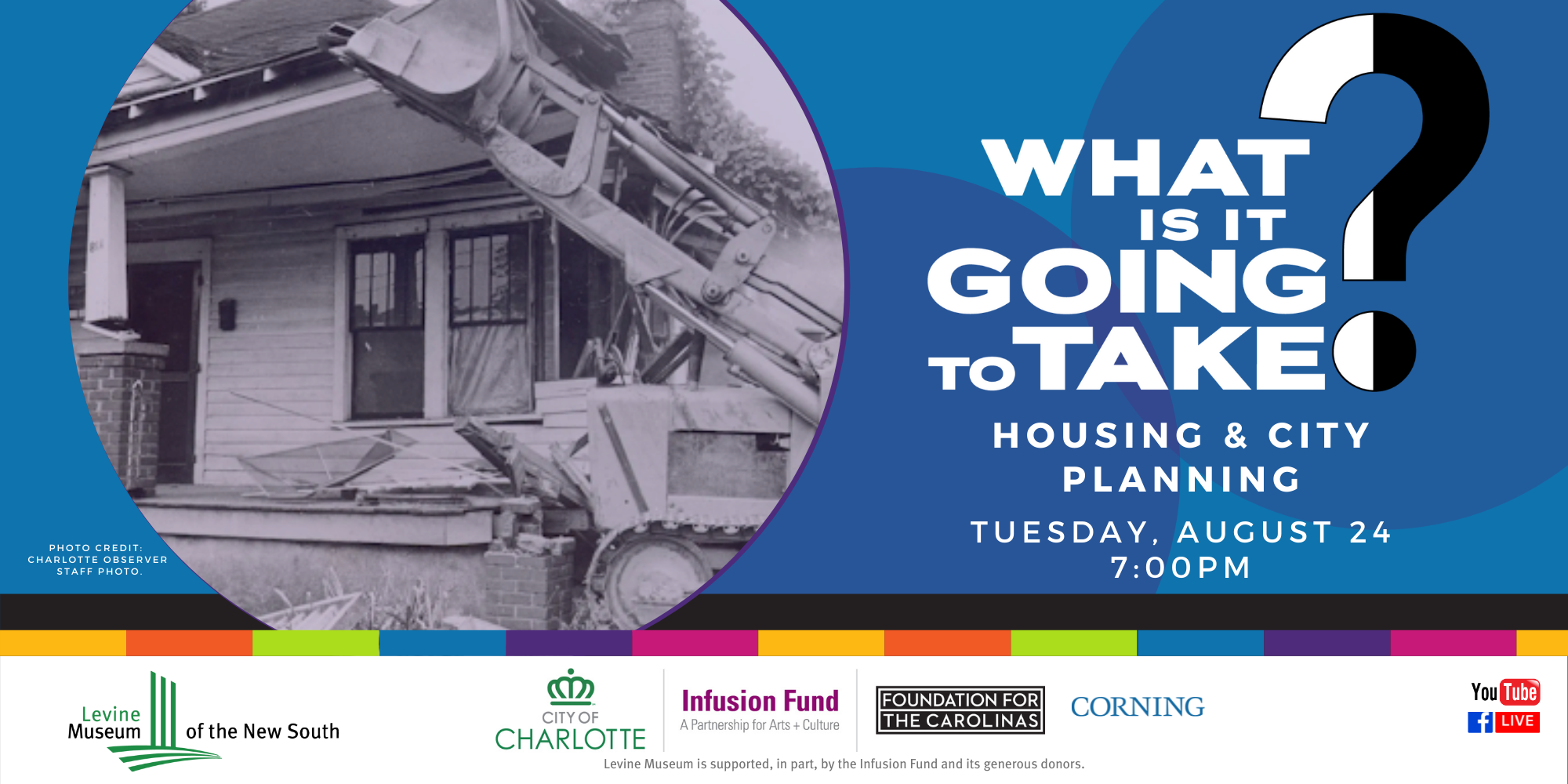 What is it Going to Take? Housing and City Planning
The Charlotte Future 2040 Comprehensive Plan provides a roadmap for the city that will guide development and investment over the next two decades. This roadmap is long overdue since Charlotte's last comprehensive plan was in 1975, but it has stirred debate about gentrification, affordable housing, and the impact of city development policy on various communities. 
Join us for a conversation hosted by Mary Newsom, with UNC Charlotte Urban Institute's Angelique Gaines and Ely Portillo alongside Ismaail Qaiyim (Charlotte Community Benefits Coalition, Housing Justice Coalition), as we explore the history of urban renewal and various policy decisions that predate the 2040 plan and what we need to do to avoid making similar mistakes.  
---
How to Watch:
---
Meet the Panelists:
Mary Newsom is a lifelong newspaper journalist who spent several decades at The Charlotte Observer as an editorial board member and columnist, concentrating on Charlotte regional urban and suburban growth, planning, urban design, transportation and land preservation. She left the Observer and joined the UNC Charlotte Urban Institute in 2011. She had a year-long Nieman Fellowship at Harvard University 2007-08, and in 2005-06 was a Knight Fellow in Community Building at the University of Miami. Newsom retired from the institute in 2018 as Director of Urban Policy Initiatives, and is now a freelance writer in Charlotte.
Angelique Gaines is a Research Associate at the UNC Charlotte Urban Institute. In this role, she conducts various research and evaluation projects in the Charlotte region ranging from housing to youth development. In addition to her research, Angelique directs the Urban Institute's City Walks program, which engages residents in community conversations about their neighborhoods.  Residents get to explore a variety of themes, from Charlotte's changing development to art, culture, architecture, food and economic mobility. Angelique has a Master's degree in Urban and Regional Policy from Northeastern University, where her focus was on social policy and community development.
Ely Portillo has lived in Charlotte for over a decade, and is now assistant director of outreach and strategic partnerships at the UNC Charlotte Urban Institute. From 2009 – 2019, he was a reporter at the Charlotte Observer, primarily covering business, real estate and local politics. A Washington, D.C.-area native, Ely holds a degree in political science from Harvard University. He and his wife, Caroline, live in south Charlotte with their children, ages 3 and almost 1.
Ismaail Qaiyim unique background as a community organizer, policy researcher, and freelance writer adds depth and clarity to his work as a Community-based attorney. He currently acts as a core member of the Charlotte Community Benefits Coalition and the Political Education Committee Chair of the Charlotte Housing Justice Coalition. Ismaail's work is informed by his formal education and experiences working in West Africa as a researcher and advocate for Friends of the Earth Liberia (SDI Liberia). His time spent assisting and working alongside tenants fighting for their rights in NYC through various internships and his legal clinic showed him the centrality of community-based empowerment in pushing for rights and societal transformation.  Ismaail is a recent graduate of CUNY School of Law, and additionally, he holds an MSc in Violence, Conflict and Development from the School of Oriental and African Studies (SOAS), University of London.