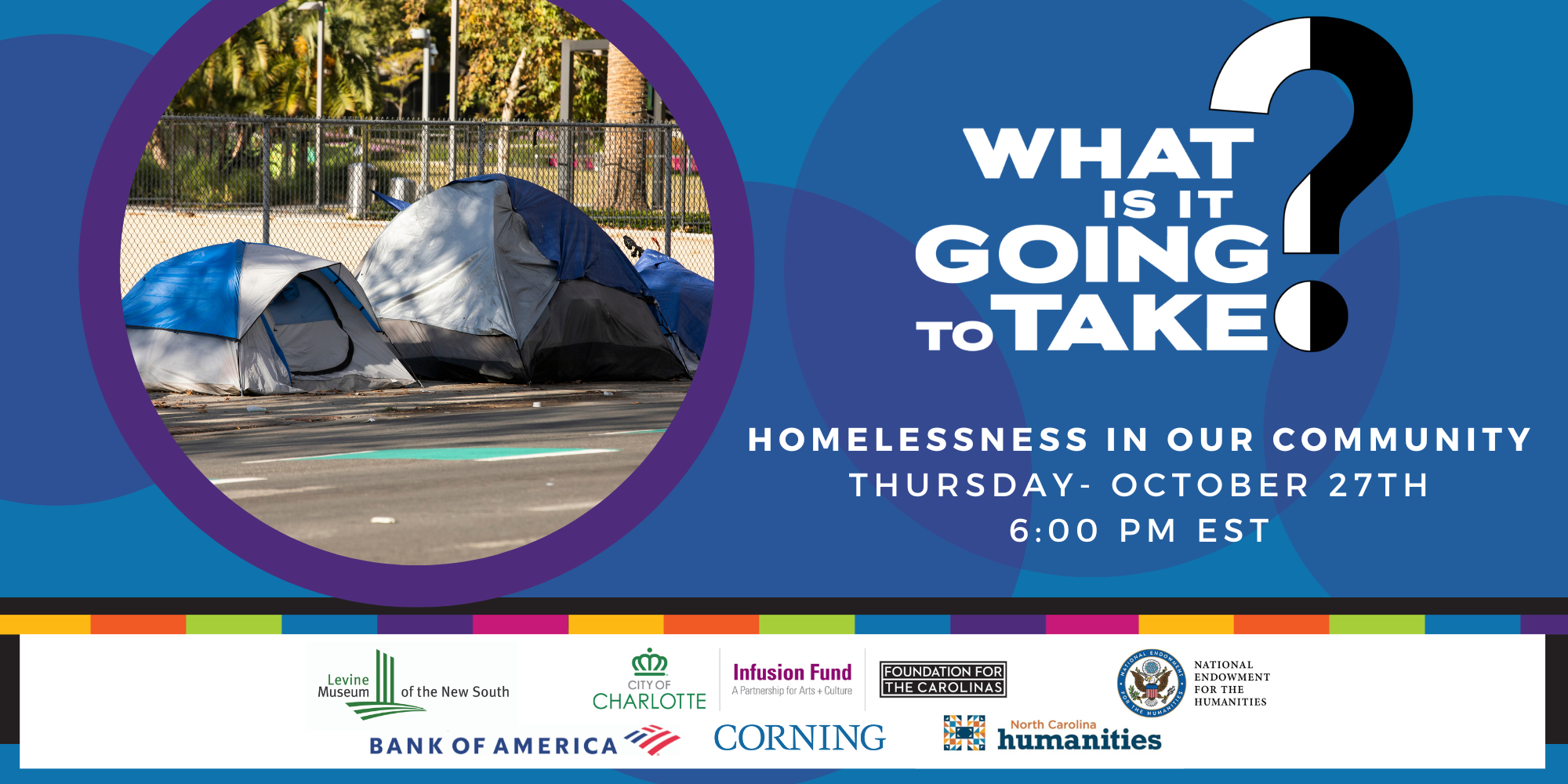 What Is It Going To Take? Homelessness in Our Community
The homeless population is growing in our community. According to the Charlotte-Mecklenburg Housing and Homeless Dashboard, as of July 31, 2022, there are 2,667 people experiencing homelessness in the Charlotte-Mecklenburg area. Join us on October 27th for a special program discussing homelessness, including insights from the 2021 Housing Instability Report by the UNCC Urban Institute. What challenges and needs do people without homes face? How can we be involved in finding solutions? 
Art by Michael Bennet (Kazier Art) and Jah Smalls will be on display and available for purchase. Michael and Jah's art and poetry were inspired by their conversations with those experiencing homelessness. Portions of the proceeds will go to the organization Roof Above. Jah Smalls will also read some of his poetry after the panel discussion.
Address and Time: 
Little Rock Cultural Center
401 N. Myers St. Charlotte, NC 28202
Parking is free! Doors open at 6PM 
---
Our Panelist
Bridget Anderson is a Research Associate at the UNC Charlotte Urban Institute. Bridget earned her B.A. in Sociology from Wake Forest University and holds a Master of Public Health from UNC Chapel Hill. Bridget's role at the Urban Institute is to provide data insights on community issues, including homelessness and public health, as well as evaluation services to organizations in the Charlotte-Mecklenburg area.

Joe Hamby is currently the Director of Community Education at Roof Above, where he has been on staff since 2013. Until recently, he has focused much of his work there on helping men experiencing homelessness find meaningful employment and training opportunities. Prior to joining Roof Above, Joe was the youth pastor at Myers Park United Methodist Church and Providence United Methodist Church in Charlotte. He is a proud graduate of Wake Forest University and Duke Divinity School. 
Artist Bios: 
Jah Smalls was born and raised in the East New York section of NYC. Coach Jah Smalls is both a poet and MC.  Alongside his biological brother (Mr. Witz), Jah Smalls is part of "Grannae's Boyz," highlighting the nickname given to their mother (Grannae). Grannae's Boyz has become a cornerstone within the Charlotte-Mecklenburg community and celebrated their 9th year anniversary in June 2022.
Michael Bennett, a.k.a. Kazier Art, is an all-around creative specializing in large-scale public art, interactive visuals, portraiture, immersive spaces, and creative directing. His focus is to create work where art and innovation meet. A DJ and a born collaborator Kaizer pulls from every conceivable experience that shapes his landscapes and perspectives. Explaining Kaizer's artwork is no easy task, as ongoing experimentations in visual art, music, and interactive technologies have his practice continually expanding. With his ever-evolving approach to art, Kaizer's focus is on expanding customary views of creativity and challenging fine-art paradigms by mixing traditional mediums with new approaches—all the while opening up the creative process to those who are affected by drug and mental health issues.
Pictured Below are examples of the art that will be featured and available for purchase.