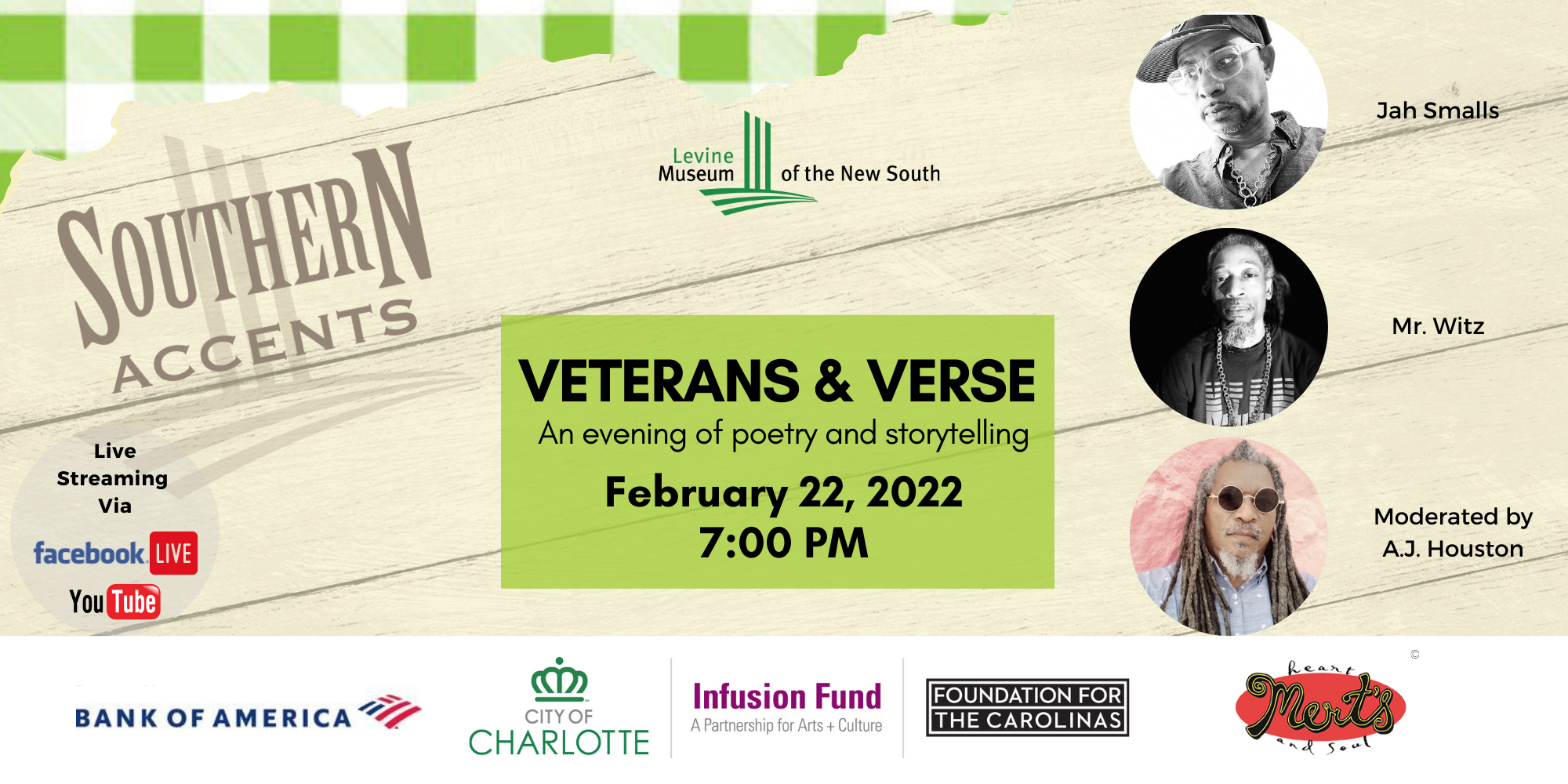 Southern Accents: Veterans & Verse
Join us virtually for an evening of poetry and storytelling with Coach Jah Smalls and Mr. Witz (Grannae's Boyz) about their new book, Trigger Warning. Discussion moderated by Albert Jeffrey Houston.
Inspired by conversations with military members, particularly Charlotte-area Black veterans, as well as paintings and photos of wartime, Jah Smalls and Mr. Witz write poems dedicated to military members and their families. Trigger Warning explores veteran experiences of war and its aftermath and shows how art can uniquely capture those experiences.
You can purchase the book HERE.
---
How to Watch:
---
Meet the Panelists:
Born and raised in the East New York section of NYC, Mr. Witz and Coach Jah Smalls are both poets and MC's. The evident swing in HipHop music gave birth to rappers and opened the doors for their poetic writing talents to explore new avenues in which these two biological brothers combined forces and adopted the name "Grannae's Boyz," highlighting the nickname given to their mother (Grannae). Grannae's Boyz has become a cornerstone within the Charlotte-Mecklenburg community and will be celebrating their 9th year anniversary in June 2022.
Albert Jeffrey Houston was born in Dallas, Texas, and is the middle child of five children, two boys and three girls. Mr. Jeffrey is a publisher and a facilitator of workshops. He is also an author of eight books, including Let Us Write, a collection of 365 writing prompts with a purpose. He believes that "if a picture is worth a thousand words, your poem should be worth a thousand pictures." Mr. Jeffrey created the company Not Just Alphabets in 1999, with a goal of helping others realize their dream of becoming published authors. A veteran himself, AJ Houston is the publisher of Trigger Warning.