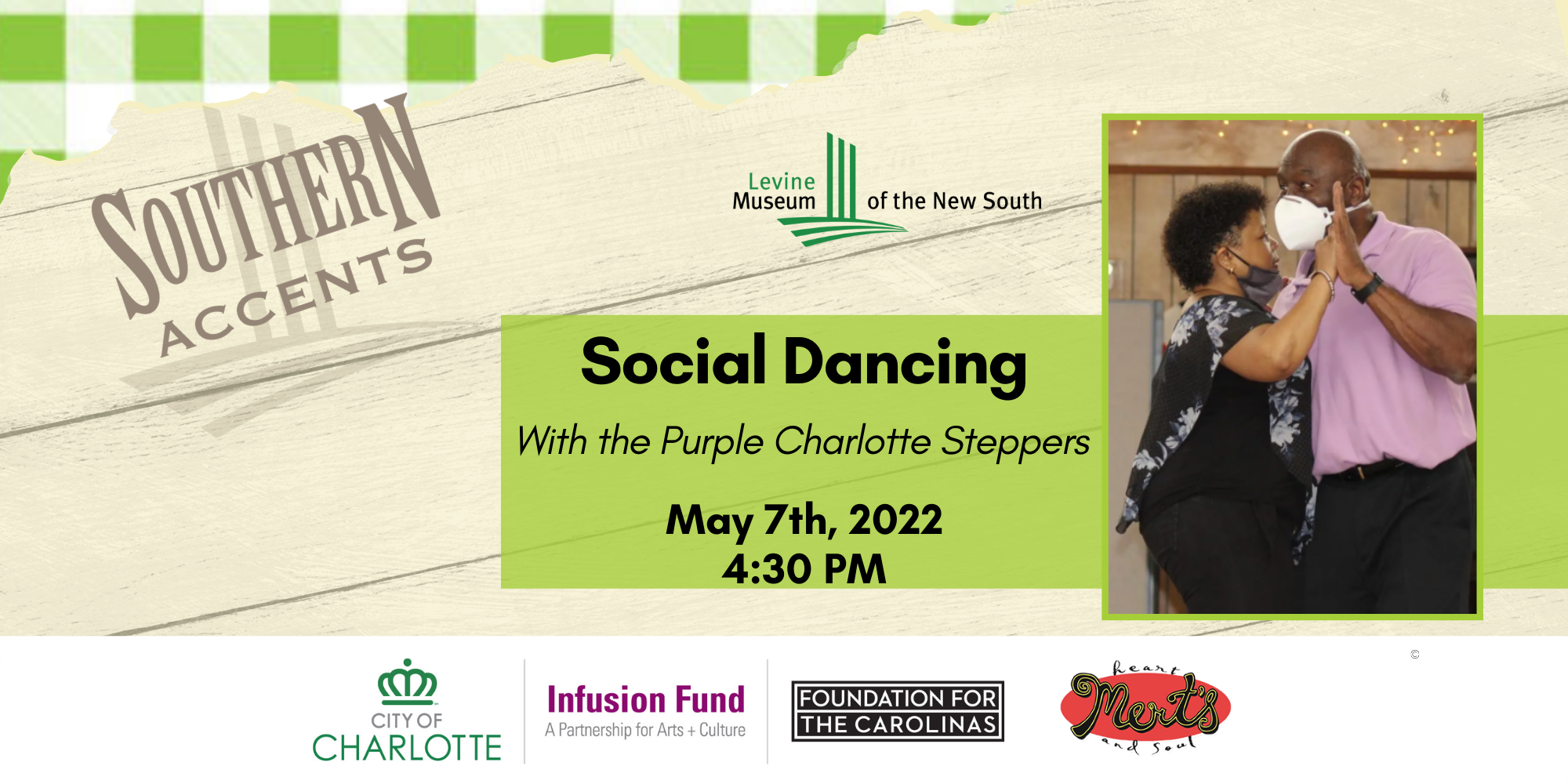 Southern Accents: Social Dancing with the Purple Charlotte Steppers
Bring your dancing shoes for the Purple Charlotte Steppers' demonstration and workshop in person at Levine Museum. Demond Carter, Executive Director of Purple Charlotte Steppers, will share insights into African American social dance development, from Lindy to the recent resurgence of community engagement. After a little historical background, participants can learn new steps and test out their skills in a dance workshop for all levels of comfort led by instructors from Purple Charlotte Steppers.
Parking
Levine Museum provides parking validation, with no hourly limit for evening events after 5:00 p.m. in the Seventh Street Station parking deck. Visitors should present a parking ticket for validation at the Guest Services desk upon arrival.
Light refreshments available. Get your tickets before we are sold out!
---
Demond Carter, Founder of Purple Charlotte Steppers – Demond Carter is the Executive Director of Purple Steppers of Charlotte and is a Master instructor of Detroit Club Style Ballroom and Chicago Style Stepping. Over the past 15 years, Demond has focused on developing an international standardized curriculum for both styles of Urban Social Dance while expanding the Urban Social Dance culture throughout the nation. 
Demond has hosted workshops and classes for the Charlotte Mecklenburg School System, Charlotte Mecklenburg Police Department, Presbyterian Hospital, The North Carolina Museum of History, Charlotte City Council, University Park Baptist Church, Friendship Missionary Baptist Church, CIAA, and Johnson C. Smith University, just to name a few. Demond Carter was also featured in a thirty-minute segment with the PBS show "North Carolina Weekend." Demond has held workshops for the Virginia Beach Steppers in Virginia Beach, Virginia, Detroit 2 Cleveland Connection in Cleveland, Ohio; Dance Connection in Pensacola, Florida, Chi-Steppers in Chicago, Illinois and Authentic Stepper in Manhattan, NY. Also, Demond Carter was recognized by the Charlotte City Council for his dedication to the dance culture and the community by naming July 16th "Demond Carter Day" and July 17th "Purple Charlotte Steppers Day." 
Demond's standardized curriculum is the foundation for instruction throughout the country. Demond is a regular guest at events throughout the nation on radio programs, TV shows and internet broadcasts.