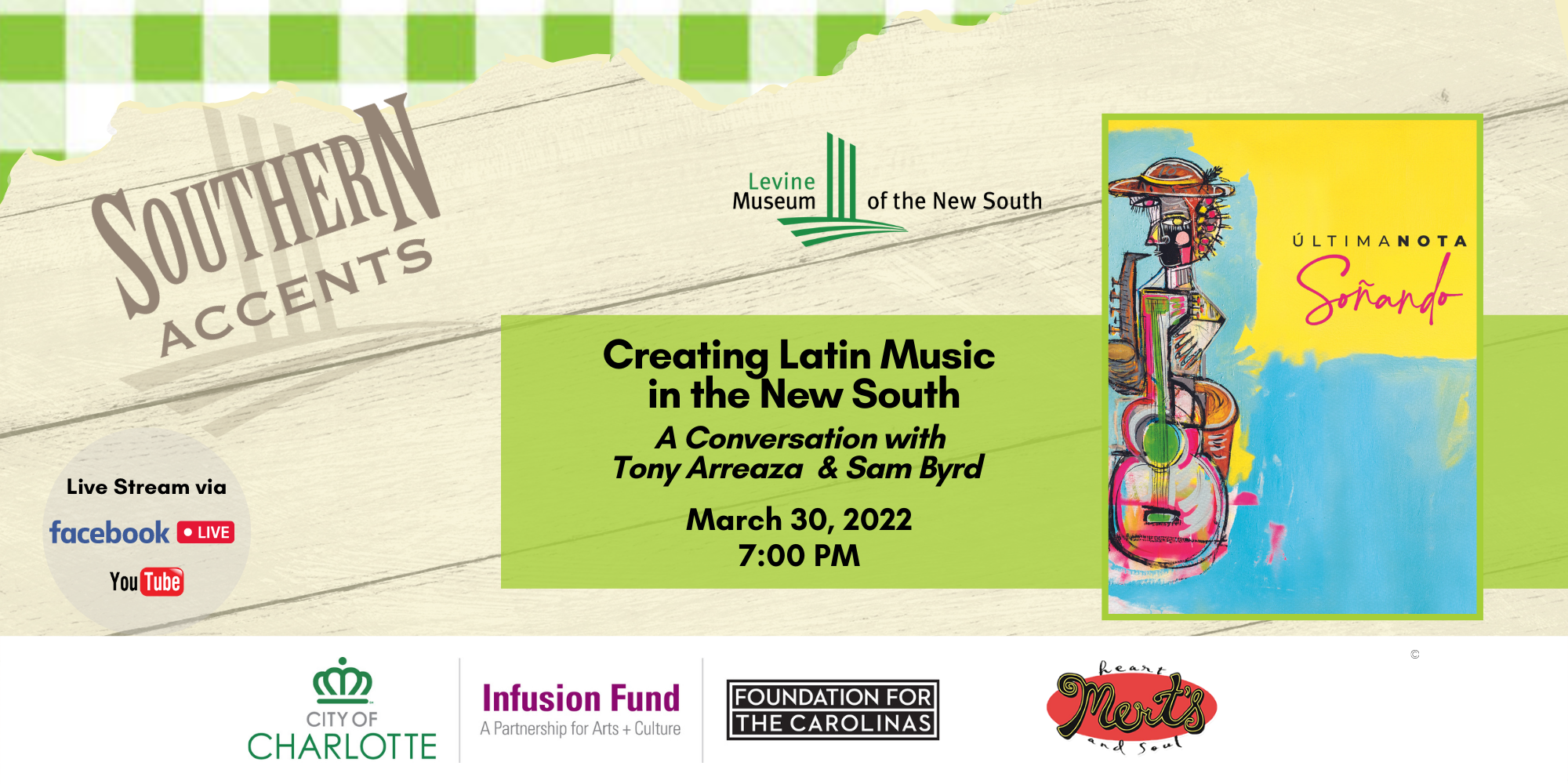 Southern Accents: Creating Latin Music in the New South
Join us as we discuss the evolution of Latinx culture in the New South through the music on Charlotte-based band Ultima Nota's new full-length album Soñando (Dreaming).  
Ultima Nota's guitarist and band director, Tony Arreaza, will discuss his experiences creating music and space for Latinx musicians in Charlotte with Dr. Samuel Byrd, author of The Sounds of Latinidad: Immigrants Making Music and Creating Culture in a Southern City.  
Arreaza helped Latin music flourish in our region, while creating art that builds community, debates political questions, and claims cultural citizenship via events and the now full-length album Soñando. The album features local Latinx artists and highlights the diversity of Latin music styles created in Charlotte, while also featuring responses to local community concerns and pains with songs such as "Esperanza" (Hope) (a tribute to the Afro-Latinx community and an ode to Black women) and "Mi Sueño" (My Dream) (a highlight of the strength and stories of immigrants in Charlotte). 
---
How to Watch:
---
Meet the Panelists:
Tony Arreaza boasts an impressive career as a musician, music promoter, and event organizer. Originally from Puerto la Cruz, Venezuela, he has lived in Charlotte since 1993 and was a pioneer in Charlotte's Latin music movement. Tony's passion for music extends beyond the stage. As the Cultural Events Director for Charlotte's Latin American Coalition from 2005-2015, he was responsible for growing the nonprofit's cultural events into a vibrant, revenue-generating, industry-leading program. 
He is also the founder of Carlotan Talents, a production company that has been organizing Latin music events in Charlotte and the Southeast for over 10 years – from corporate events and college functions to massive 20,000+ person festivals. 
Sam Byrd is Director of College Transition and Alternative Credit Programs in the division of Continuing Education & Workforce Development and an Adjunct Assistant Professor in the Business Department at Hostos Community College– City University of New York. 
His book, The Sounds of Latinidad: Immigrants Making Music and Creating Culture in a Southern City, was published by New York University Press in 2015.  He received his Ph.D. in Anthropology from the City University of New York (CUNY) Graduate Center.