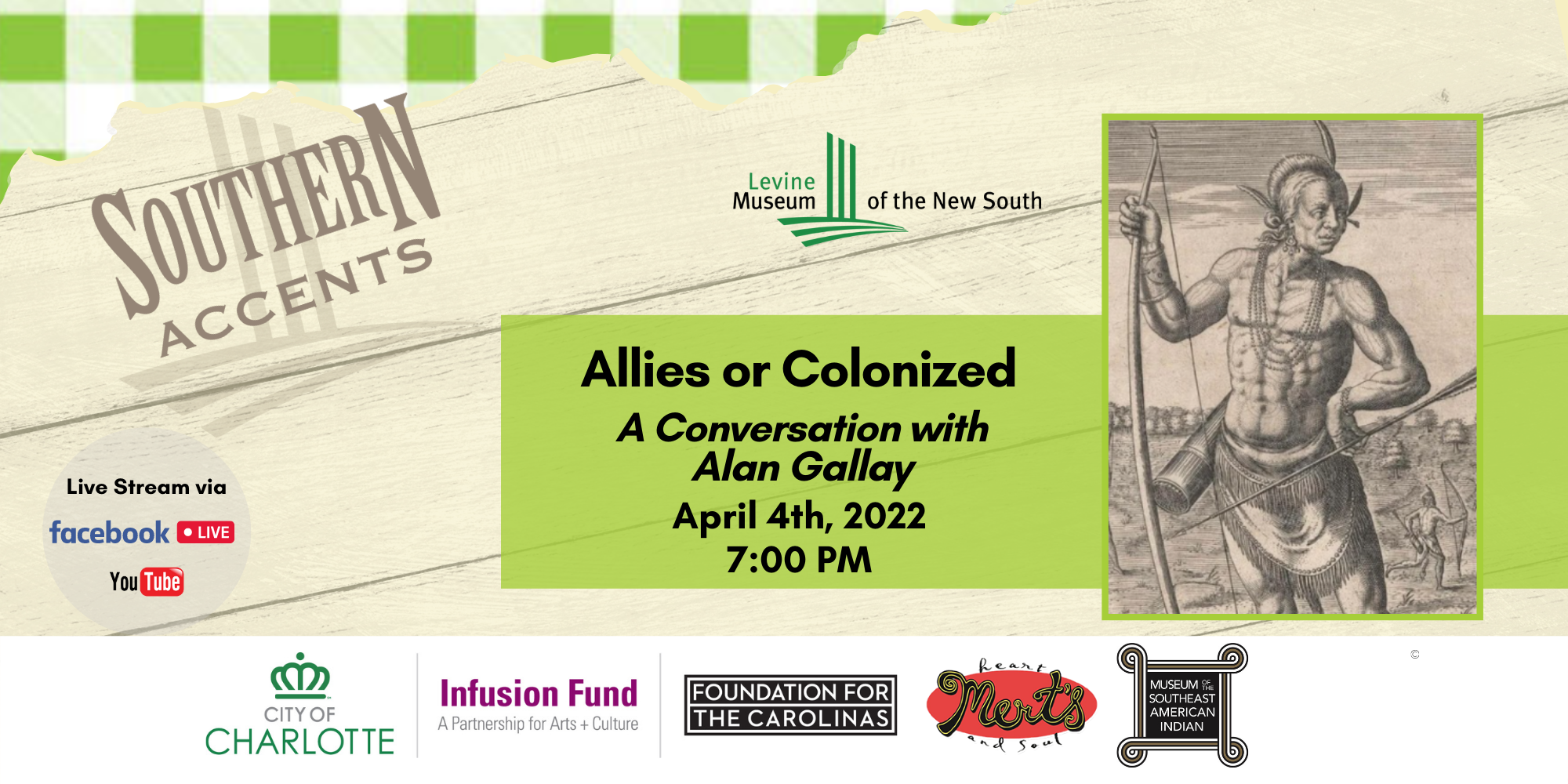 Southern Accents: Allies or Colonized
Join us for a virtual conversation between curator Nancy Strickland Fields and Dr. Alan Gallay, author of Walter Raleigh: Architect of Empire. Gallay's book opens up to a new, vastly different history based on evidence of Raleigh's belief that Indian people should not be colonized, but rather be allies to the Roanoke Colony. This concept challenges the actual history of colonialism that played out across the Americas.
Insights from Gallay's latest book will help us explore the Theodor de Bry engravings depicting the Algonquian peoples featured in the exhibit Wuskitahkamik Miyai: Intersection of Worlds, now at the Museum of the Southeast American Indian. The book reveals how Raleigh the man credited with the blueprint for England's colonization plans in the Americas—launched the English Empire and an era of colonization that shaped history for centuries after his death.
---
How to Watch:
---
Meet the Panelists:
Dr. Alan Gallay is the Lyndon B. Johnson chair of United States history at Texas Christian University, and has taught at the universities of Notre Dame, Mississippi, Western Washington, Harvard (as a Mellon Faculty Fellow) and Auckland, New Zealand (as a Fulbright Lecturer). Twice he taught for the American Heritage Association in London. He also twice held fellowships from the National Endowment for the Humanities. Previously, he held the Warner R. Woodring Chair in Atlantic World and Early American History and was Director of The Center for Historical Research at The Ohio State University.
Nancy Strickland Fields serves as Director and Curator of The Museum of the Southeast American Indian in Pembroke, North Carolina. Her 18-year museum career has been focused in museum education and administration. She has worked at the Museum of Contemporary Native Art in Santa Fe, New Mexico; The National Museum of the American Indian in Washington, D.C.; and The American Indian Cultural Center and Museum in Oklahoma City. 
She is the first Lumbee graduate of the Institute of American Indian Arts in Santa Fe, New Mexico where she earned a bachelor's degree in Museum Studies. Nancy earned a master's degree in History from the University of North Carolina at Wilmington and is currently a doctoral student in the Public History program at North Carolina State University.
Nancy's area of research focuses on Southeastern Native peoples and the American colonial experience. She is a trustee for North Carolina Humanities and serves as a board member for the Robeson County Arts Council and the Museum of the Cape Fear. Nancy is a member of the Lumbee Tribe. Her family resides in and around the Pembroke area. She was raised in Charlotte with very close ties to her family in Robeson County.