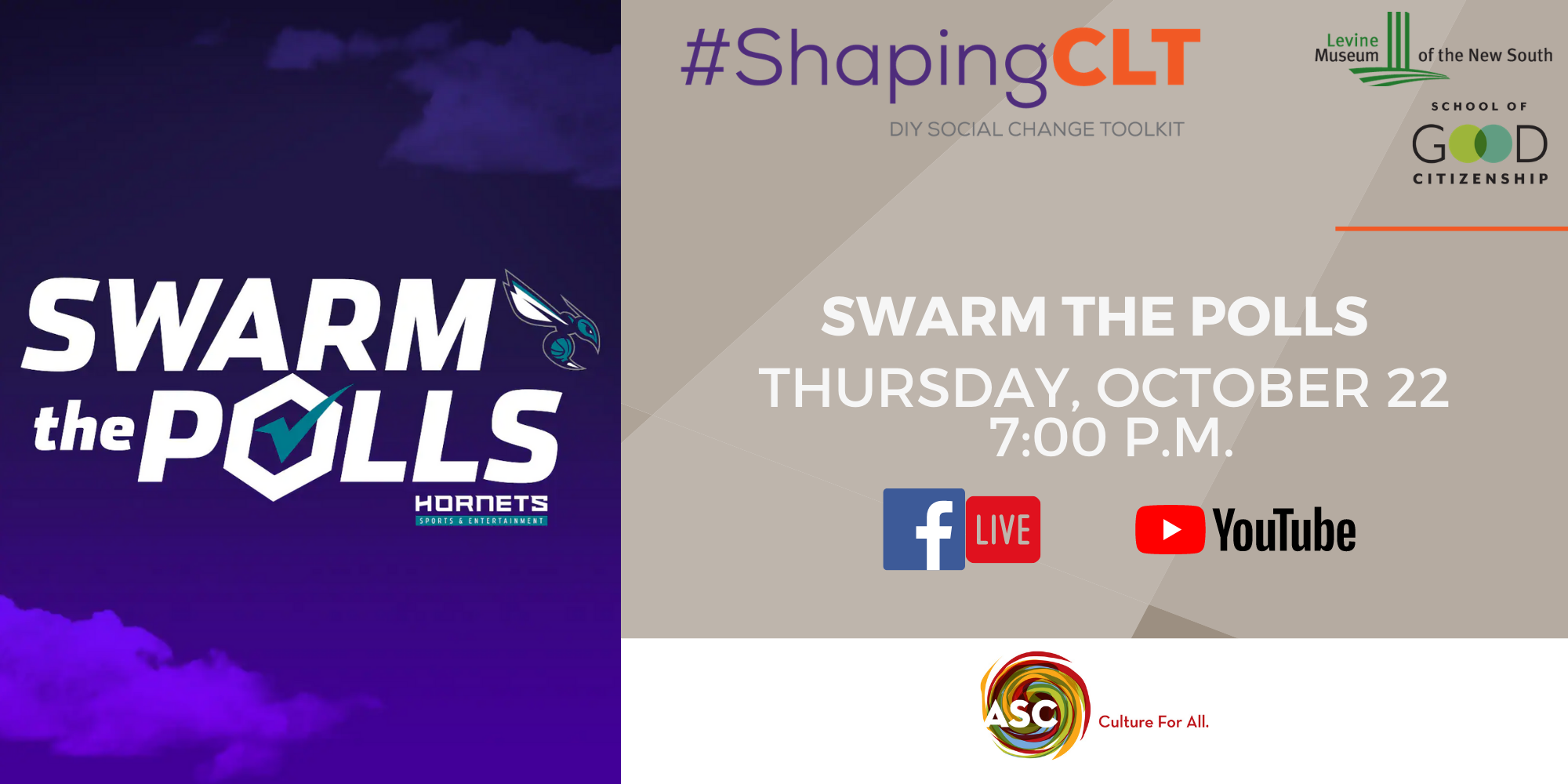 #ShapingCLT: Swarm The Polls
Over the past several years, early voting has become increasingly important – but never more important than this year. Voting rights advocates have long defended early voting as a safeguard against attempts to suppress the vote in many communities. In the midst of a pandemic, early voting may be one of the safest way to vote, as well.
The Charlotte Hornets (NBA) are opening their doors as an early voting site for the first time, while also engaging the community through their #SwarmThePolls initiative.
Join us in a conversation with Charlotte Hornets' head coach James Borrego; Executive Director of the Charlotte Hornets Foundation & Senior Director of Corporate Social Responsibility, Betsy Mack; and historian, sport studies scholar, and professor at Colorado College, Dr. Jamal Ratchford, as we discuss the historical intersection of sports, social justice, and civic engagement and its influence today.
Ms. Jessica, "The Girl Next Door" co-host of the Morning Maddhouse WPEG Power 98, will moderate this very timely conversation.
VIEW THE LIVE STREAM FROM OUR WEBSITE HERE.
VIEW THE LIVE STREAM FROM YOUTUBE HERE.
VIEW THE LIVE STREAM FROM FACEBOOK HERE.
Please Note:
Facebook: If you wish to submit questions and engage with others in the comments section, a Facebook account is needed, and you must be viewing through your Facebook account. You can view through Facebook here. If you choose to tune in to Facebook from your cell phone, you will need to download the Facebook app in your App Store.
YouTube: If you would like to engage with others in the comments section and participate in the Q & A portion, you will need a YouTube account with a Gmail email address prior to the program. Click here for instructions on creating a YouTube account.
James Borrego – Head Coach, Charlotte Hornets
James Borrego was named the eleventh head coach in Hornets franchise history after joining the franchise on May 10, 2018.  Borrego joined the Hornets after most recently serving as an assistant coach with the San Antonio Spurs. In his first two seasons the Hornets are 62-85 under Borrego's leadership.
The Albuquerque, New Mexico native began his NBA career as an Assistant Video Coordinator with San Antonio prior to the 2003-04 season, spending seven seasons with the Spurs under Head Coach Gregg Popovich and ascending to the role of Assistant Coach prior to his departure.  He served two seasons as an Assistant Coach with New Orleans from 2010-2012 under Monty Williams. Borrego joined Jacque Vaughn's staff with the Orlando Magic and served three seasons under Vaughn from 2013-2015.  Borrego gained his initial head coaching experience in the NBA serving the final 30 games of the 2014-15 season as the interim head coach after Vaughn's dismissal. Borrego came to the Hornets after serving most recently as an assistant coach in a second stint with the San Antonio Spurs for the past three seasons (2015-2018).
In his 18 seasons in the NBA, Borrego has been a part of staffs that have lead teams to the playoffs 11 different times in his time in San Antonio and New Orleans.  Borrego has been a part of two NBA championship teams and been to four Conference Finals total.
Prior to the NBA, Borrego served two seasons (2001-03) as an Assistant Coach at University of San Diego, his alma mater.  Additionally, Borrego played four seasons collegiately for the Toreros from 1998-2001.
Borrego has dedicated much of his time in the offseason to expanding the game of basketball's international influence.  He participated in the NBA's Basketball Without Borders Asia in 2012, Basketball Without Borders Argentina in 2013, NBA Camp Cuba in 2015 as well as Basketball Without Borders Americas in 2017
Borrego earned a bachelor's degree in English and a master's degree in leadership studies from USD. He and his wife, Megan, have a daughter, Grace, and two sons, Zachary and Nicholas.
Betsy Mack – Executive Director of the Charlotte Hornets Foundation & Senior Director of Corporate Social Responsibility
Betsy Mack, with Hornets Sports and Entertainment, is the Executive Director of the Charlotte Hornets Foundation and the Senior Director of Corporate Social Responsibility. At the Hornets, Mack leads all community and philanthropic efforts. Annually, Mack and her team execute over 100 events and activations that engage the team in philanthropic efforts. She helped to coordinate and lead the 2019 NBA All-Star NBA Cares Community efforts, orchestrating over 30 events in three days.
Mack came to the Hornets with experience in public relations, community development, fundraising and marketing. Previously, Mack was the Director of Emerging Markets for Technology Partners, responsible for leading the company's expansion, focusing on increasing the company's national footprint. Mack also worked at United Way for five campaigns, with a sole responsibility of fundraising for over $15 million annually.
Betsy Mack is passionate about community service and is very involved in numerous philanthropic efforts through board roles. Mack is a first-time author with the release of Mid-Reach: A Book to Inspire, Empower, and Celebrate Failing While in the Midst of Success. This business memoir is written for those mid-level professionals who are not at the beginning of their career[s], but far from the end.
Mack holds a Bachelor of Science in Public Relations with a minor in Sports Marketing from Illinois State University.
Dr. Jamal Ratchford – Assistant Professor, Colorado College
Born in San Jose, California, Jamal Ratchford (Dr. J) earned a B.A. from Morehouse College (2004), and an M.A. (2006) and Ph.D. (2011) from Purdue University. He currently works as a jointly appointed assistant Professor in the Department of History, and the Race, Ethnicity, and Migration Studies Program. Ratchford specializes in African American history, sport studies, and twentieth century U.S. history.
His work explores synergies and discontinuities between sport and long black freedom movements. He challenges myths of integration in sport as a positive good that best reinforces American exceptionalism. His work has been cited by The Guardian, NPR, and Salon. He has earned fellowships through the National Endowment for the Humanities at Harvard University, and most recently the Kentucky Historical Society. He is revising multiple original works for publication.
Ratchford is a diehard Kentucky basketball fan, and proud father of Lara and Alex.
Ms. Jessica is a premiere radio personality with an infectious persona that connects with all types of people, allowing her to entertain different audiences perfectly. Affectionately known as "The Girl Next Door", her high energy, passion, and bubbly voice comes through every time she touches a microphone.
As the co-host of the top rated and award-winning radio morning show "The Morning Maddhouse" on WPEG/Power 98, Ms. Jessica captivates listeners daily with her "Nosey Neighbor News", candid conversations, and entertaining antics with the biggest celebrities. In addition to that, Ms. Jessica is an Entertainment Contributor for Fox 46's "Good Day Charlotte". She is a trusted source for information with a buzz and reach that is constantly growing. Ms. Jessica is a proud graduate of Johnson C. Smith University.