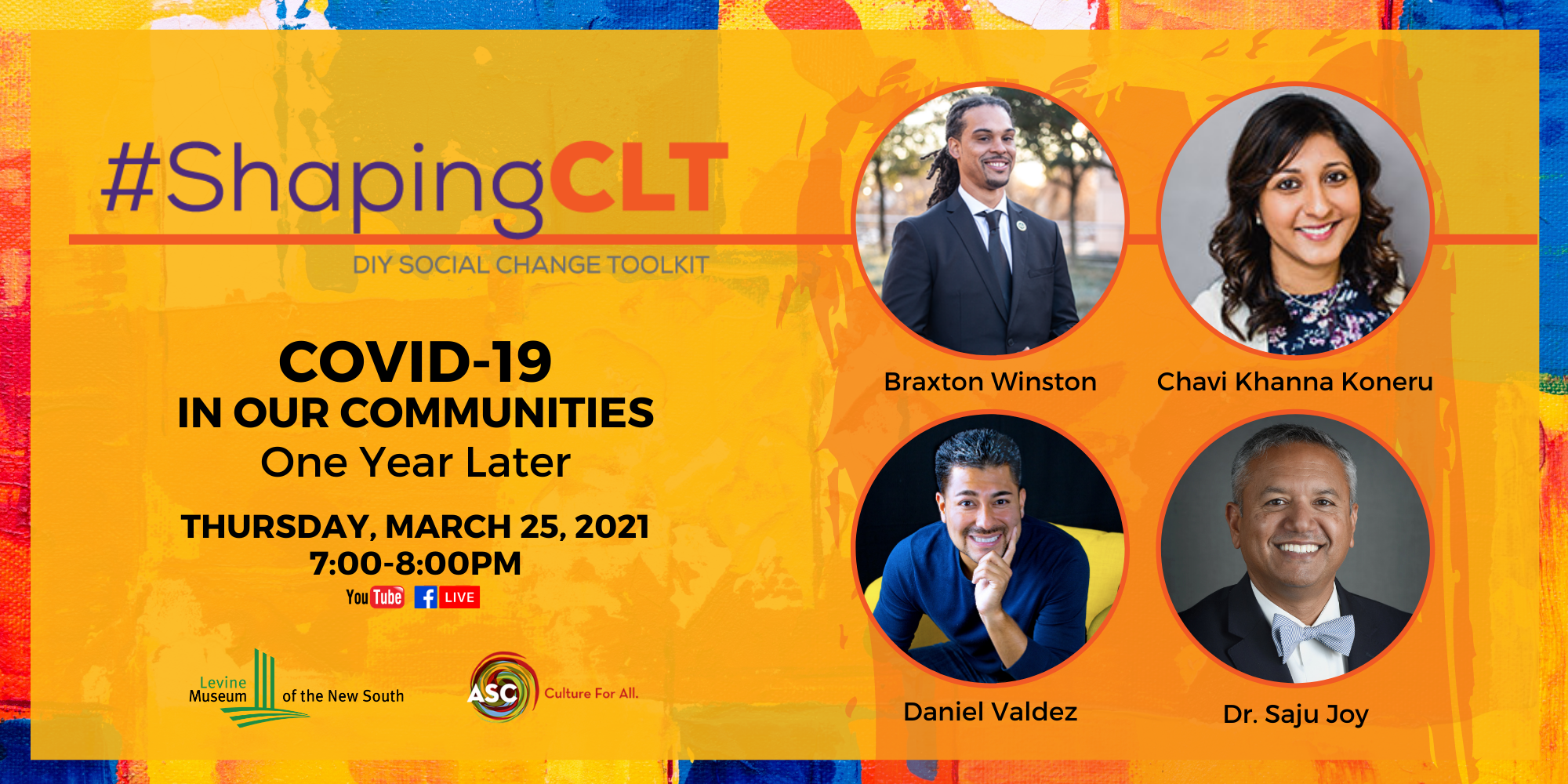 ShapingCLT: COVID-19 In Our Communities, A Year Later  
A year has passed since COVID-19 first altered and disrupted our communities in significant ways. Many of our lives are now forever changed. We have experienced loss, risen to challenges, found hope, and inspired resilience. Join us as we discuss what we have learned, where we are, and how we need to move forward. 
Braxton Winston, Chavi Khanna Koneru, Daniel Valdez and Dr. Saju Joy will return for this retrospective conversation, and to share about how various groups have organized support in these trying times.
RSVP Here
Ways to Watch: 
Meet our Panelists:
Braxton Winston, At-Large Charlotte City Council Member. He sits on several boards and committees including Prep for Prep Alumni Association, the Board of Trustees of the Charlotte Symphony Orchestra, and Habitat for Humanity's Charlotte Neighborhood Revitalization Committee. Braxton seeks new models of engagement for communities who have historically been left out of the Charlotte decision-making process. As a citizen journalist, he presents the public with stories not covered by traditional media outlets. His journalism serves to amplify and uplift voices from Charlotte's most challenged communities by providing a lens that focuses on the impacts of injustices in our city.
Braxton holds a B.A. in Anthropology from Davidson College.
@BraxtonWinston (Twitter and Instagram) 

https://www.facebook.com/braxton.winston
---
Chavi Khanna Koneru is co-founder and Executive Director of North Carolina Asian Americans Together (NCAAT). Koneru moved to North Carolina in 1989 and has spent the majority of her life living in the state, including attending college and law school locally at the University of North Carolina. This has allowed her to gain a deep, personal understanding of what it means to be AAPI in the South. Additionally, her legal background in voting rights law has given her the opportunity to interpret and enforce laws impacting the AAPI community, including during her time in the Voting Section at the U.S. Department of Justice, where she focused on language access for AAPI voters.
https://www.facebook.com/ncaatogether 

https://twitter.com/ncaatogether   

https://www.instagram.com/ncaatogether/
---
Daniel Valdez, Director of North Carolina and Mid-South Operations at the Hispanic Federation; President of the Board of Directors at Charlotte PRIDE
In his role, Daniel oversees North Carolina operations to help support and strengthen Latino nonprofits and the communities they serve. With more than a decade of nonprofit management experience, he is passionate about helping advance the mission of organizations and communities working on systemic changes to bring greater prosperity and opportunity for everyone. Prior to joining the Hispanic Federation, Daniel served as Network Director with Welcoming America, an international organization that supports communities and partners who are leading efforts to make their communities more vibrant, equitable, and welcoming places for all. Throughout his career he has worked on various advocacy and education efforts with organizations like the Latin American Coalition, Carolinas Care Partnership, and Crisis Assistance Ministry. Daniel has had the privilege of serving on several local nonprofit boards, including Wayfinders, Charlotte Lesbian and Gay Fund, Latin American Coalition, and as the current chair of the Board of Directors for Charlotte Pride. Daniel holds a B.A. in History and Latin American Studies from the University of North Carolina at Charlotte and a certificate in Nonprofit Management from Duke University. He was born in Acapulco, Mexico and has called the Charlotte region home for almost 25 years. In his spare time Daniel enjoys hiking, spending time with friends and family, and exploring new cities.
@dandamex (TW & IG)

@Hispanic_federation (IG)

@HispanicFed (TW)

https://www.facebook.com/hispanicfederation
---
Dr. Saju Joy currently serves as the Chief Medical Officer for Atrium Health's Central Division (CMC-Main and CMC-Mercy Hospitals).  He is also the Co-Chair of Perinatal Safety Collaborative –System Wide and leads the Capacity Surge Management and Clinical Optimization for Women's Health in the Charlotte Metro Area.
Dr. Joy has been a part of the Atrium Health Medical community since joining Carolinas Medical Center and the Women's Institute as an obstetrician/gynecologist and maternal fetal medical specialist in 2010. He has held more than a dozen leadership and committee posts during his tenure, the most recent of which include Atrium Health Medical Group OB/Gyn Specialty Medical Director – Surgery Care Division and Atrium Health Division Chief Maternal Fetal Medicine. 
Dr. Joy received his Bachelor of Science in computer engineering and a Master's Degree in electrical engineering from North Carolina State University. He received his Medical Degree from the University of North Carolina.  He recently completed his Executive MBA from Duke University – rounding out the Triangle Trifecta!  
His medical training included an OB/GYN residency at the University of Florida and fellowship at the Ohio State University Medical Center, specializing in maternal and fetal medicine. Dr. Joy is Board Certified by the American Board of Obstetrics and Gynecology for General OB/GYN and Maternal-Fetal Medicine.  Dr. Joy also has multiple publications and Poster Presentations for the Society of Maternal-Fetal Medicine and the American College of Obstetricians and Gynecologist and Authored Chapter in the Handbook of Obstetric and Gynecologic Emergencies.
Though his full-time commitment is being CMO, he also continues some clinical activity with Atrium Health as a Maternal-Fetal Medicine Specialist.
@AtriumHealth (TW & IG)

@AtriumHealthUS (FB)