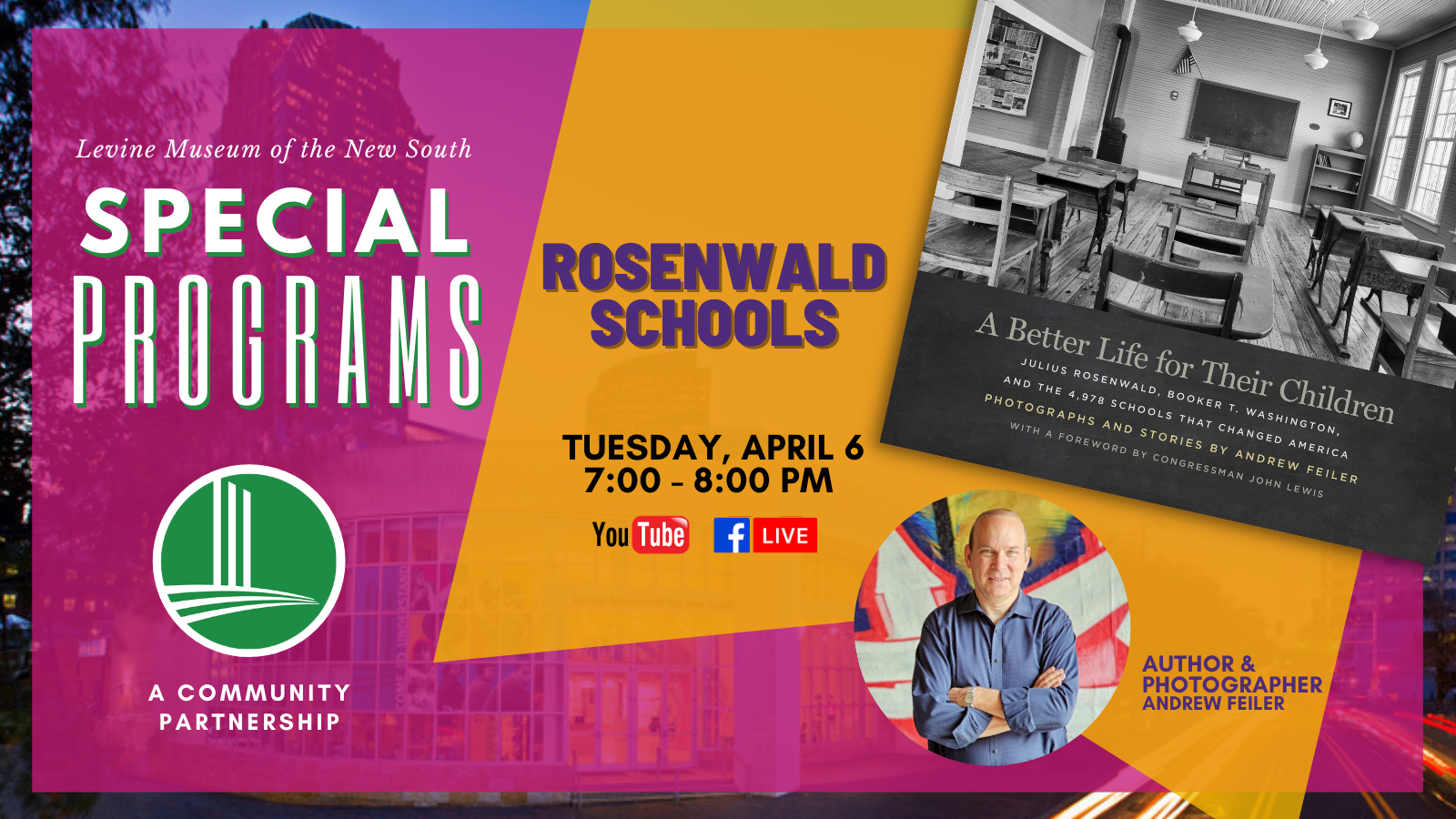 Rosenwald Schools: The 4,978 Schools that Changed America
Join Levine Museum's historian, Dr. Willie Griffin, as he sits down with Andrew Feiler to discuss his forthcoming book of photography, A Better Life for Their Children: Julius Rosenwald, Booker T. Washington, and the 4,978 Schools that Changed America. 
Feiler's work is the first comprehensive photo documentary of the program created by Tuskegee Institute principal Booker T. Washington and Sears, Roebuck & Company president Julius Rosenwald. From 1912 to 1937, this collaboration built 4,978 schools for African American children across 15 southern and border states and transformed America.
---
Ways to Watch: 
Rosenwald Schools
Julius Rosenwald led Sears, Roebuck & Company from 1908 until his death in 1932. He helped turn Sears into the world's largest retailer, and he became one of the earliest and greatest philanthropists in American history. Booker T. Washington was one of the most prominent African American voices in the late nineteenth and early twentieth centuries. Born into slavery, he became an educator and was the founding principal of Tuskegee Institute. He led the college for more than 30 years.  
Rosenwald and Washington met in 1911. At that time, black public schools in the South were usually in terrible facilities with outdated materials and a tiny fraction of the funding provided for educating white children. Many communities did not even have public schools for African American students. Rosenwald and Washington, forging one of the earliest collaborations between Jews and African Americans, attacked this education challenge with originality and sophistication and created the program that became known as Rosenwald schools.  
The Rosenwald schools program changed America. Between World War I and World War II, the persistent black-white education gap that had plagued the South narrowed significantly. Economists at the Federal Reserve would later conclude that Rosenwald schools were the most significant factor in that achievement. Further, Rosenwald schools would be a meaningful force in helping give rise to the civil rights movement. Many of the leaders and foot soldiers of the movement were educated in Rosenwald schools
Of the original 4,978 Rosenwald schools, about five hundred survive. In what is the first comprehensive photographic account of the program, Andrew Feiler drove more than 25,000 miles and photographed 105 schools in all fifteen of the program states. The work includes interiors and exteriors, schools restored and yet-to-be restored, and portraits of people with compelling connections to these schools. Brief narratives written by Feiler accompany each photograph, telling the stories of Rosenwald schools' connections to the Trail of Tears, the Great Migration, the Tuskegee Airmen, Brown vs. Board of Education, embezzlement, murder, and more. A book of this work will be published by the University of Georgia Press in April 2021. The book's foreword is by Congressman John Lewis, a Rosenwald school former student. The traveling exhibition of this work will originate at the National Center for Civil and Human Rights in Atlanta in May 2021.
Andrew Feiler
Andrew Feiler is a fifth generation Georgian. Having grown up Jewish in Savannah, he has been shaped by the rich complexities of the American South, and of being a minority in the South.  Andrew has long been active in civic life. He has helped create over a dozen community initiatives, serves on multiple not-for-profit boards, and is an active advisor to numerous elected officials and political candidates. His art is an extension of his civic values.  
Andrew's earlier book, Without Regard to Sex, Race, or Color, focused on the largely abandoned campus of an historically black college, this body of artistic documentary photography offers a new way into the debate raging in our society about the essential role education has played as the foundation of the American Dream.  
Andrew earned his bachelor's in economics from The Wharton School of the University of Pennsylvania. He earned a master's in modern history from Oxford University and a master's in business administration from Stanford University. Andrew's work can be seen at andrewfeiler.com.