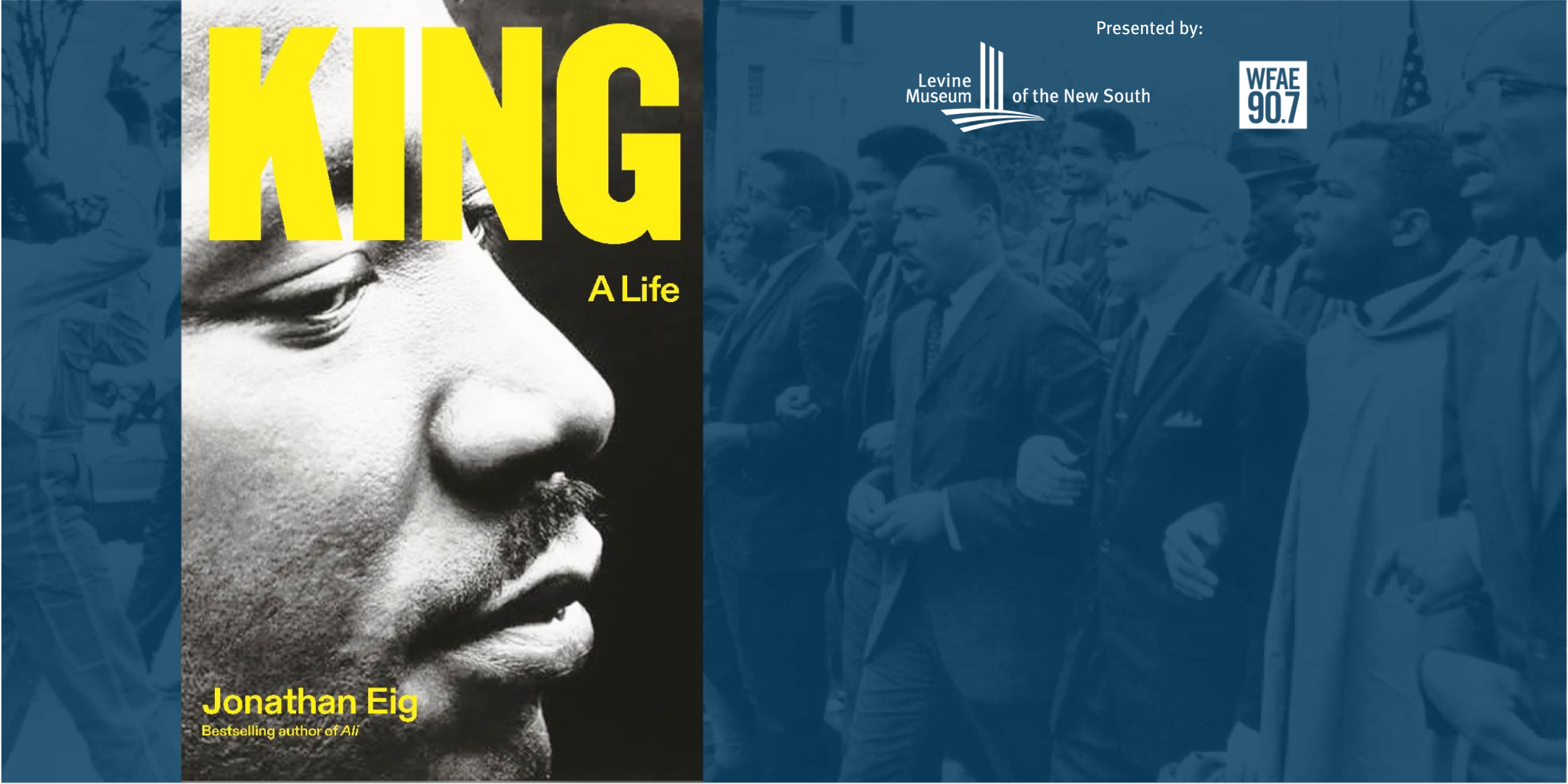 The Legacy of Dr. King: An Author Talk with Jonathan Eig
Presented by Levine Museum of the New South and WFAE.
Join New York Times bestselling author Jonathan Eig for a conversation and signing of his newly released book King: A Life.
The first major biography of King in 40 years, based on hundreds of interviews and thousands of newly discovered documents, this is King like you've never seen him before: flawed, brave, radical…and under heavy attack by the FBI.
King: A Life also brings to light thousands of personal papers from King's associates and friends, giving us an intimate view of his complex relationships that allow us to explore King's legacy and humanity in new ways. The conversation with Eig, moderated by Mary C. Curtis, will center on the relevancy of Dr. King's life and work today, surprising discoveries he unveiled during his research, and more.
The book signing will begin immediately following the conversation. Copies of King: A Life are available to purchase in advance when purchasing your admission ticket and onsite at the event.
Please note: An American Sign Language (ASL) interpreter will be present.
---
About Our Guests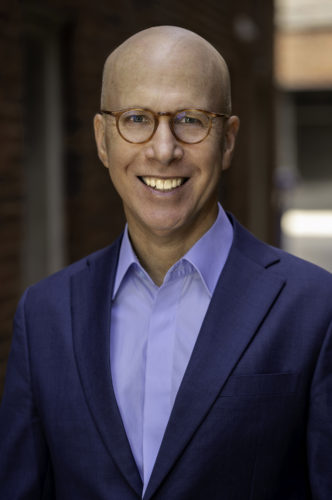 Jonathan Eig is the bestselling author of six books, including his most recent, King: A Life, which The New York Times hailed as a "monumental" new biography of Martin Luther King Jr. Jonathan's previous book, Ali: A Life, won a 2018 PEN America Literary Award and was a finalist for the Mark Lynton History Prize. His works have been translated into more than a dozen languages.
He served as consulting producer for the PBS series "Muhammad Ali," which was directed by Ken Burns. Esquire magazine named Ali: A Life one of the 25 greatest biographies of all time. Joyce Carol Oates called it "an epic of a biography" that "reads like a novel."
Jonathan's first book, Luckiest Man: The Life and Death of Lou Gehrig, reached No. 10 on the New York Times bestseller list and won the Casey Award. His books have been listed among the best of the year by The New York Times, The Washington Post, and The Wall Street Journal.
Jonathan began his writing career at age 16, working for his hometown newspaper, The Rockland County (N.Y.) Journal News, studied journalism at Northwestern University and went on to work as a reporter for The New Orleans Times-Picayune, The Dallas Morning News, Chicago Magazine, and The Wall Street Journal.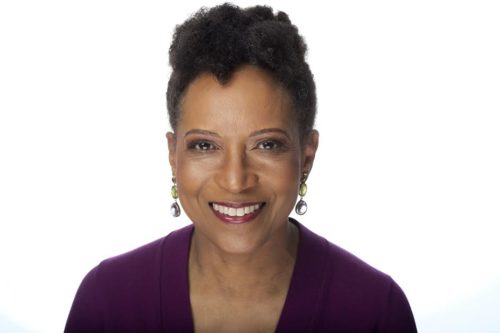 Mary C. Curtis, a columnist at Roll Call, is an award-winning journalist, podcast host and educator based in Charlotte, N.C., and Washington, D.C. She is host of the CQ Roll Call podcast "Equal Time with Mary C. Curtis," a contributor to Slate and a guest host of Slate's daily "What Next" podcast.
Her coverage specialty is the intersection of politics, culture and race, and Curtis has covered presidential campaigns since 2008. She talks politics and culture on NPR-affiliate WFAE in Charlotte and has contributed to NBC News, NPR, The Washington Post, MSNBC, CNN, The Root, ESPN and more. She has worked at The New York Times, the Charlotte Observer, the Baltimore Sun, and the Associated Press, and was national correspondent for AOL's Politics Daily.
Curtis is a Senior Facilitator with The OpEd Project, which increases the range of voices in opinion writing, facilitating "Write to Change the World" seminars, at Yale University, Cornell University, and the Ford Foundation and at the Aspen New Voices Fellowship in Johannesburg, South Africa.
Curtis was a Nieman Fellow at Harvard University and a Kiplinger Fellow, in social media, at The Ohio State. She was chosen to be included in The HistoryMakers, the single largest archival collection of its kind in the world, designed to promote and celebrate the successes and to document movements, events and organizations that are important to the African American community and to American society; it is available digitally and permanently archived in the Library of Congress.
Her honors include Clarion Awards from the Association for Women in Communications, awards from the National Headliners, the Society of Professional Journalists and the National Federation of Press Women, four first-place Salute to Excellence awards from the National Association of Black Journalists, four first-place SPJ DC Dateline awards, and the Thomas Wolfe Award for an examination of Confederate heritage groups.  In 2022, she received the Ernie Pyle Lifetime Achievement Award from the National Society of Newspaper Columnists.
Curtis has contributed to several books, including essays in "Now What: The Voters Have Spoken, Essays on Life After Trump," "Covering Politics in the Age of Trump," and "Love Her, Love Her Not: The Hillary Paradox."
About The Book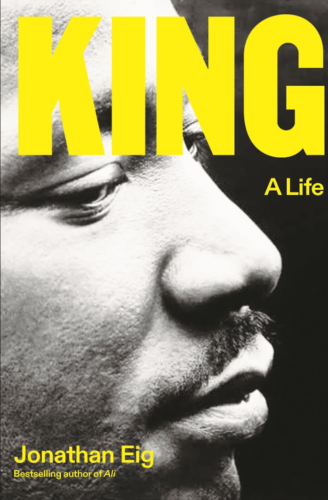 Vividly written and exhaustively researched, Jonathan Eig's King: A Life is the first major biography in decades of the civil rights icon Martin Luther King Jr.—and the first to include recently declassified FBI files. In this revelatory new portrait of the preacher and activist who shook the world, the bestselling biographer gives us an intimate view of the courageous and often emotionally troubled human being who demanded peaceful protest for his movement but was rarely at peace with himself. He casts fresh light on the King family's origins as well as MLK's complex relationships with his wife, father, and fellow activists.
King reveals a minister wrestling with his own human frailties and dark moods, a citizen hunted by his own government, and a man determined to fight for justice even if it proved to be a fight to the death. As he follows MLK from the classroom to the pulpit to the streets of Birmingham, Selma, and Memphis, Eig dramatically re-creates the journey of a man who recast American race relations and became our only modern-day founding father—as well as the nation's most mourned martyr.
"King is infused with the narrative energy of a thriller…The most compelling account of King's life in a generation." – Mark Whitaker, The Washington Post
Sponsored By 


---
Parking
Levine Center for the Arts Parking Garage
550 S. Tryon Street with an entrance on West Brooklyn Village Avenue.
Transit
Lynx light rail station – 3rd Street and Convention Center