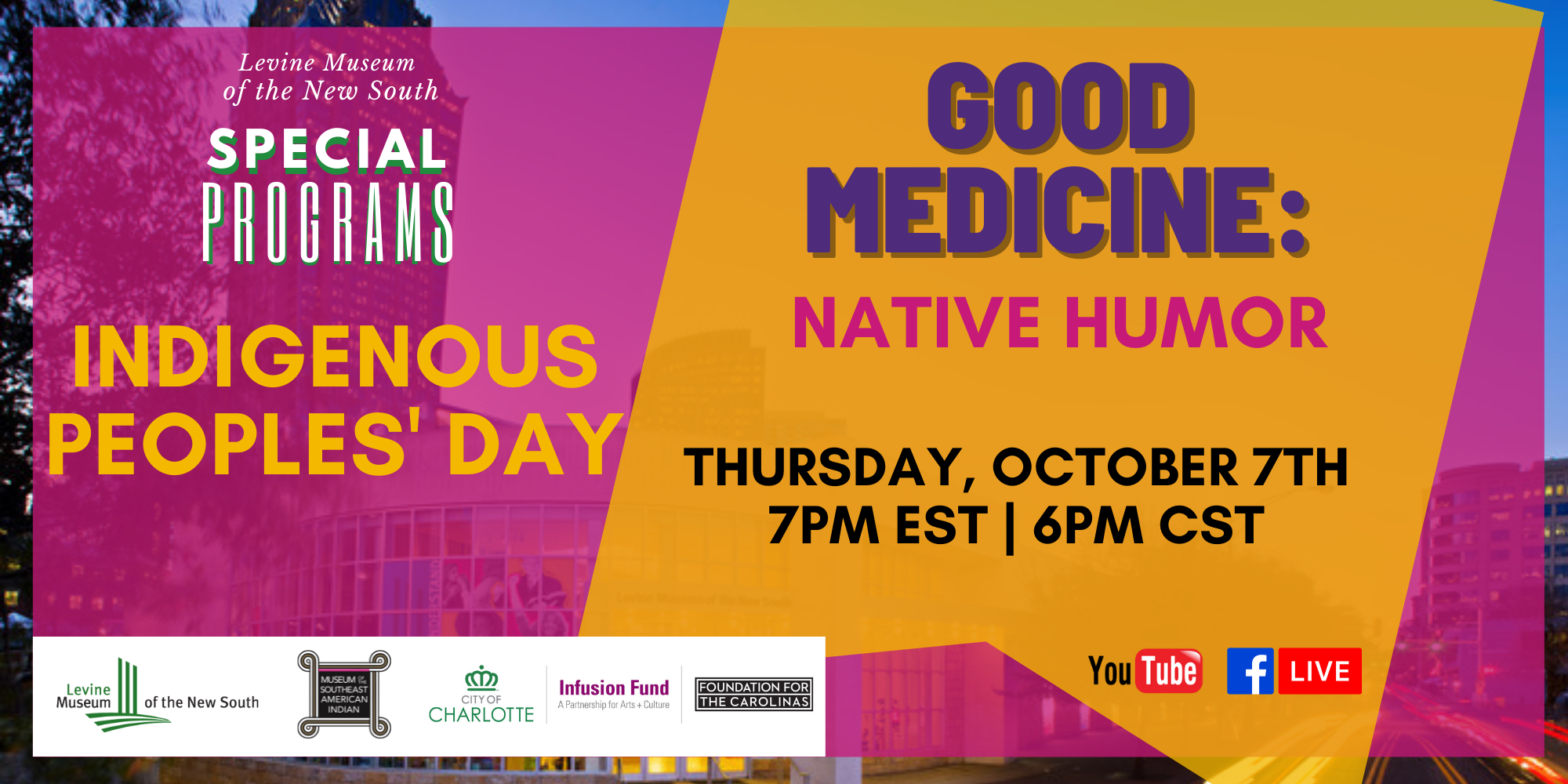 Indigenous Peoples' Day — Good Medicine: Native Humor
We are celebrating Indigenous Peoples' Day alongside The Museum of the Southeast American Indian, with an all too familiar feeling: Laughter!
Join us for a conversation moderated by Nancy Strickland Fields with an outstanding panel of actors, artists and comedians: Dallas Goldtooth (Mdewakanton Dakota/Dene), Warren Queton (Kiowa/Cherokee) and Welana Queton (Osage/Creek/Cherokee). Dallas and Warren recently participated in the hit comedy series Reservation Dogs. Warren and Welana have provided comedy relief via social media during the pandemic in creative and engaging formats. Join our guests as they share their stories and perspective on the Good Medicine, while getting a laugh or two out of everyone.
Humor and laughter have always been the enduring medicine that keeps getting us all through life. Join us as we reflect on the role of humor in Native communities.
---
How to Watch:
---
Panelist: 
Dallas Goldtooth is an Isanti Dakota and Dine actor, comedian, stage performer and public speaker from the village of Cansayapi within the territory of the Oceti Sakowin people. He has traveled extensively across North America as a public speaker and organizer, addressing the needs and issues that affect Indigenous peoples today. He is a film producer, playwright, and published poet. He co-founded The 1491s, an all-indigenous social media group that uses comedy and satire as means of critical social dialogue. He is also a Dakota language activist, cultural teacher, dedicated father and loving husband. Film producer, playwright, and published poet Dallas Goldtooth joins Levine Museum on October 7th. 
Warren Queton is from the Kiowa, Seminole, and Cherokee Nations. He is known by his Kiowa name "Phaw Ah" meaning "The moon is coming".  Warren works in Higher Education, and recently served as the University of Oklahoma's Tribal Liaison Officer. During the COVID-19 pandemic, our Native educators became highly aware of issues students were experiencing as a result of the pandemic school work from home. As we all began working from home it became apparent that it was not just students, but all our communities were experiencing high anxiety, depression and feeling uncertain about their health and the future.  In March 2020, my wife Welana and I hosted the first Facebook bingo with a Star Wars theme to help friends and relatives distract and decompress from daily life during the pandemic, another comedic relief theme/parody included Tiger King.  
Welana Fields Queton is from the Osage, Muscogee, and Cherokee Nations. Her Osage name is Me-tsa-xe, meaning Sacred Sun, and is a member of the Bear Clan and the Osage Zon-zo-lin District. She comes from a family of accomplished artists and has been raised within the Native art world. Traditional arts are her favorite medium as she has a passion for material culture. Welana recently completed a 6-year term as a Curatorial Specialist for the First Americans Museum (FAM) in Oklahoma City. She developed and co-curated the inaugural exhibition, WINIKO: Life of an Object, featuring a loan from Smithsonian Institution, National Museum of the American Indian (NMAI), representing cultural material from all 39 Oklahoma tribal nations collected in the early 1900's. Growing up in Oklahoma and seeing  mis-representation and stereotypical characters of Native people in commercial aspects has provided Welana with the motivation to create change. She likes to collect the insanely humorous trading post Indian kitsch, specifically weird Indian dolls.