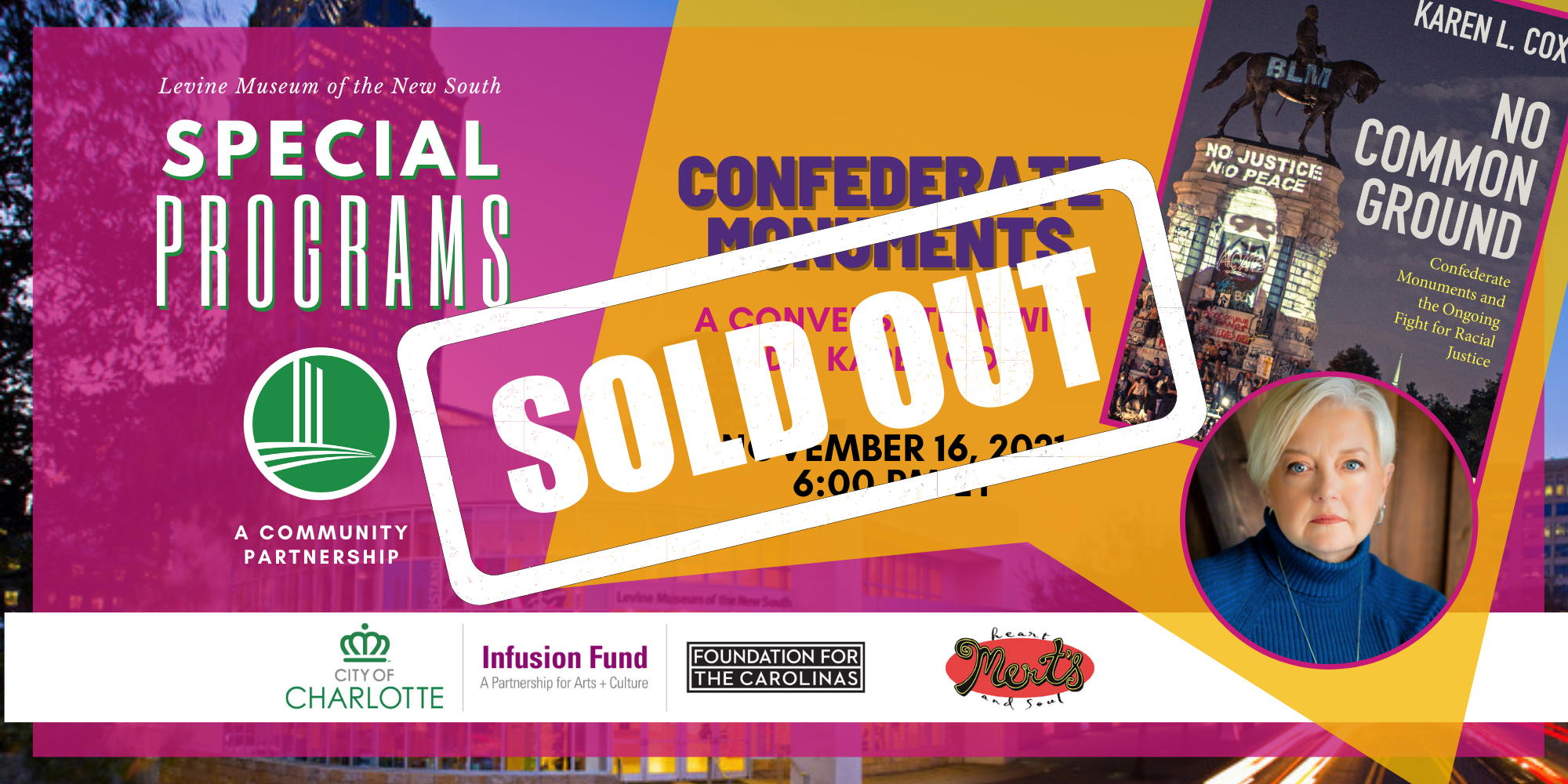 Confederate Monuments, a Conversation with Dr. Karen Cox
Join us, in-person, as Dr. Willie Griffin sits down for a conversation with Dr. Karen Cox about her book, No Common Ground: Confederate Monuments and the Ongoing Fight for Racial Justice, and related work.
When it comes to Confederate monuments, there is no common ground. Polarizing debates over their meaning have intensified into legislative maneuvering to preserve the statues, legal battles to remove them, and rowdy crowds taking matters into their own hands. Here in Charlotte, the Legacy Commission has worked towards changes to streets named for Confederate veterans, slaveholders, and white supremacists, and nostalgic antebellum ideas. Meanwhile, on September 8, 2021, Virginia removed the twelve-ton statue of Confederate Gen. Robert E. Lee more than 130 years after it was installed in Richmond. 
Conflicts about these memorials have raged for well over a century–but they've never been as intense as they are today. 
Find your copy of No Common Ground HERE, and come ready with your questions for Dr. Cox. 
Registration for this program is $15 for non-members and $10 for members.
Ticket includes a meal from our friends at Mert's Heart & Soul. 
---
Karen L. Cox is an award-winning historian and a Distinguished Lecturer for the Organization of American Historians. Her first book, Dixie's Daughters: The United Daughters of the Confederacy and the Preservation of Confederate Culture, won the 2004 Julia Cherry Spruill Prize from the Southern Association for Women Historians for the Best Book in Southern Women's History, and was reissued in 2019 with a new preface. She's also the author of Dreaming of Dixie: How the South Was Created in American Popular Culture, and Goat Castle: A True Story of Murder, Race, and the Gothic South.

A successful public intellectual, she has written op-eds for the New York Times, the Washington Post, CNN, TIME, Publishers Weekly, and the Huffington Post. Her expertise on southern history and culture has led to numerous newspaper, radio, and television interviews with media outlets from around the world. She appeared in Lucy Worsley's BBC Production of American History's Biggest Fibs.
Cox is originally from Huntington, West Virginia, a small city in the southwestern part of the state. She's lived in North Carolina since the age of 12 except for stints in Mississippi, Kentucky, and Washington, D.C.  She is professor of history at the University of North Carolina at Charlotte where she has taught since 2002.
About No Common Ground 
In this eye-opening narrative of the efforts to raise, preserve, protest, and remove Confederate monuments, Karen L. Cox depicts what these statues meant to those who erected them and how a movement arose to force a reckoning. She lucidly shows the forces that drove white southerners to construct beacons of white supremacy, as well as the ways that anti-monument sentiment, largely stifled during the Jim Crow era, returned with the civil rights movement and gathered momentum in the decades after the Voting Rights Act of 1965. Monument defenders responded with gerrymandering and "heritage" laws intended to block efforts to remove these statues, but hard as they worked to preserve the Lost Cause vision of southern history, civil rights activists, Black elected officials, and movements of ordinary people fought harder to take the story back. Timely, accessible, and essential, No Common Ground is the story of the seemingly invincible stone sentinels that are just beginning to fall from their pedestals.
---
Parking
Levine Museum provides parking validation, with no hourly limit for evening events after 5:00 p.m. in the Seventh Street Station parking deck. Visitors should present a parking ticket for validation at the Guest Services desk upon arrival.
COVID Protocol
We will carefully adhere to CDC Guidelines in effect at this time. Masks are required. All program attendees will be required to show proof of Covid-19 vaccination in order to enter this event (Government-issued ID in combination with CDC-issued card or copy of card).