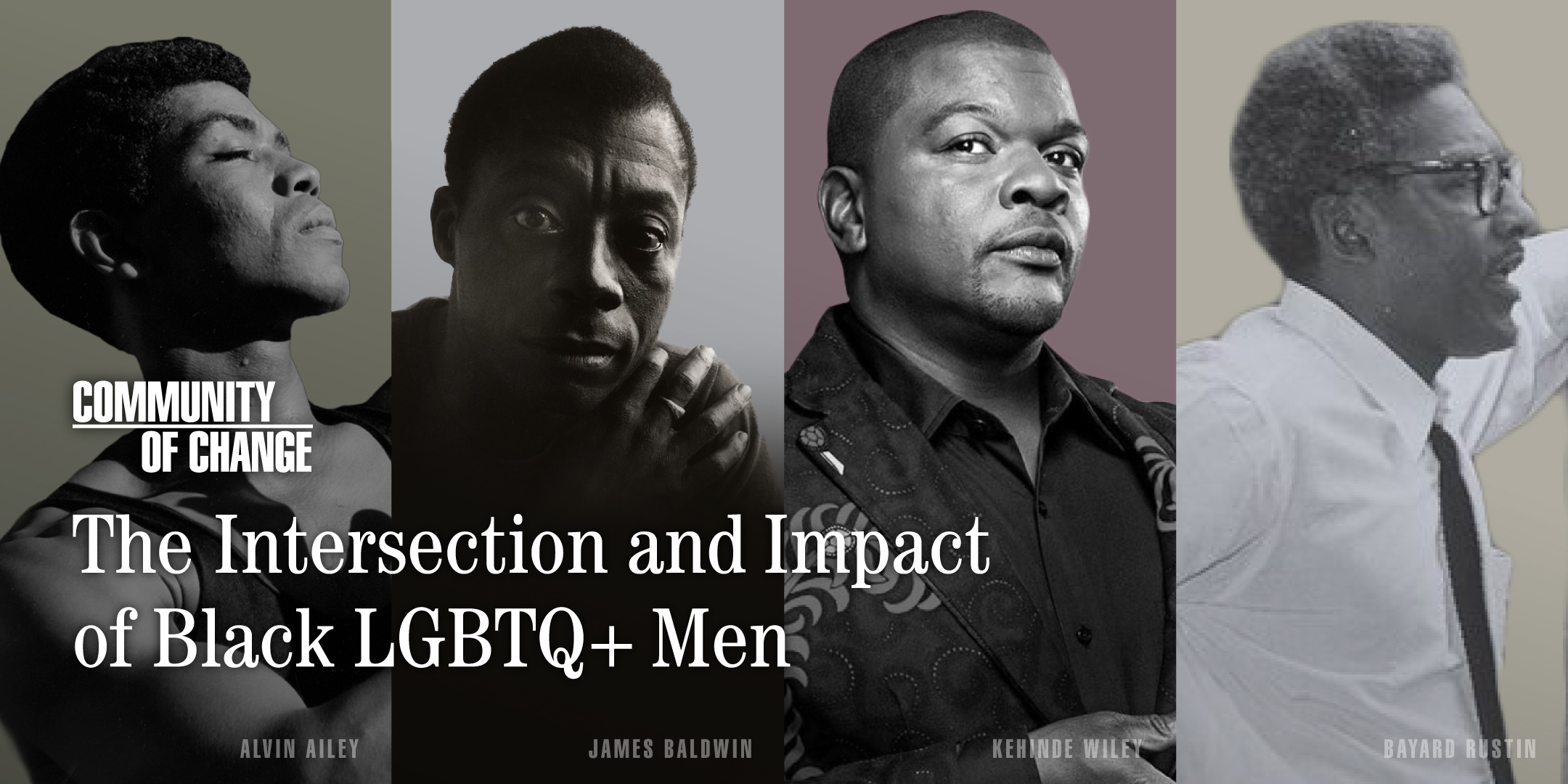 Community of Change: The Intersection and Impact of Black LGBTQ+ Men
Join us for a community dialogue about the experiences of Black LGBTQ+ men facilitated by multi-disciplinary artist and community leader Jermaine Nakia Lee!
Along with Lee, co-facilitators will be Nate Turner, owner of Your Custom Catering & Events and vocational school educator and Chandler "Chan" Robinson (Chan the Musical Mystic), CMS educator, martial artist and mystic artist.
This is the Gantt Center and the Levine Museum's first Community of Change conversation in honor of the Men of Change exhibition. Community of Change conversations place participants at the forefront. The series will explore themes presented in Men of Change to create space for difficult conversations that both enlighten and motivate.
Inspired by Men of Change Bayard Rustin, Alvin Ailey, Kehinde Wiley, James Baldwin, and others, this conversation will explore the following questions:
How does this intersection of LGBTQ+ and Black identities influence who these men were, how they presented themselves, and their impact?
How did these Men of Change inspire their generations as well as those after them?
The conversation will move beyond the men presented in the exhibition into a wider discussion of the experiences of Black LGBTQ+ men, and how this contributes to the multi-layered Black experience. Discussion topics will include:
Complexities of what it means to be a Black man
The spectrum of identities and vulnerabilities, including Black queer experiences and perspectives, compared to other queer experiences
The difference in generational experiences of men in the intersection
The history of Charlotte Black Pride
What do true progress, celebration, and remembering look like?
What is true celebration and remembering?
What can we do on an individual level to uplift, support, learn from, and promote inclusion?
Wednesday, November 30th
6:30 pm at Harvey B. Gantt Center
551 South Tryon Street Charlotte, NC 28202
This event is FREE however, we do encourage you to register at the link below.
Harvey B. Gantt Center for African-American Arts + Culture and Levine Museum of the New South are proud to collaborate and bring the dynamic exhibition Men of Change: Power. Triumph. Truth. to our Charlotte community. The exhibition profiles the revolutionary men whose journeys have altered the history and culture of the country.
Men of Change was developed by the Smithsonian Institution Traveling Exhibition Service and made possible through the generous support of the Ford Motor Company Fund.
Free admission to the Men of Change Exhibition at the Gantt Center and Levine Museum is made possible by generous support from Wells Fargo.