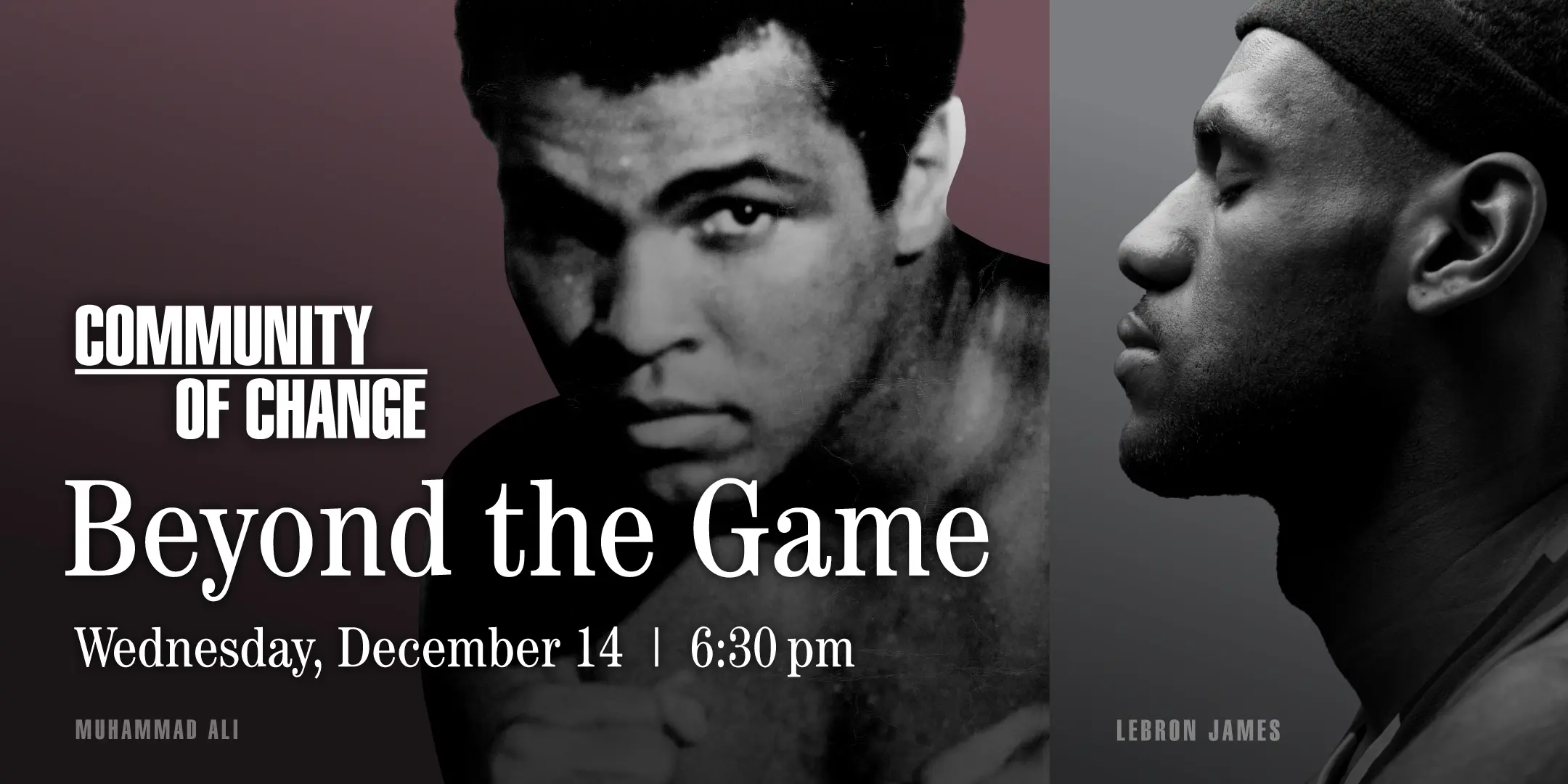 Community of Change: Beyond the Game
Join us for a community dialogue about the experiences of Black male athletes facilitated by sports journalist Rana Cash and former NFL player and current member of the App State Athletics Department Doug Middleton!
This is the Gantt Center and Levine Museum's second Community of Change conversation in honor of the Men of Change: Power.Triumph.Truth exhibition. Community of Change conversations place its participants at the forefront, allowing the discussion to take shape based on the contributions of each panelist. The Community of Change series explores themes presented in Men of Change to create space for difficult conversations that both enlighten and motivate.
Inspired by "Men of Change" Lebron James, Muhammad Ali and the athletes they continue to inspire, this conversation will explore the following questions:
What role do Black male-dominated sports play in Black culture and history?
In what ways have these "Men of Change" leveraged their talent for broader contributions and success?
What can we collectively learn from the Black male athlete's experience?
The conversation will move beyond the men presented in the exhibition into a wider discussion about the experiences of Black men in sports. Discussion topics will include:
The intersection of professional sports and politics
Mental health for the Black male athletes
Transferrable skills developed in athleticism
The damage done by stereotypes
The pressures on and expectations on Black male athletes
Please join us to contribute your valued perspective in an experience meant to strengthen our collective connection.
Wednesday, December 14th
6:30 pm at Harvey B. Gantt Center
551 South Tryon Street Charlotte, NC 28202
This event is FREE but please register at the link below.
Harvey B. Gantt Center for African-American Arts + Culture and Levine Museum of the New South are proud to collaborate and bring the dynamic exhibition Men of Change: Power. Triumph. Truth. to our Charlotte community. The exhibition profiles the revolutionary men whose journeys have altered the history and culture of the country.
Men of Change was developed by the Smithsonian Institution Traveling Exhibition Service and made possible through the generous support of the Ford Motor Company Fund.
Free admission to the Men of Change Exhibition at the Gantt Center and Levine Museum is made possible by generous support from Wells Fargo.